Conference & Stage Expo
Fellows Seek Newer Members for Conference Mentoring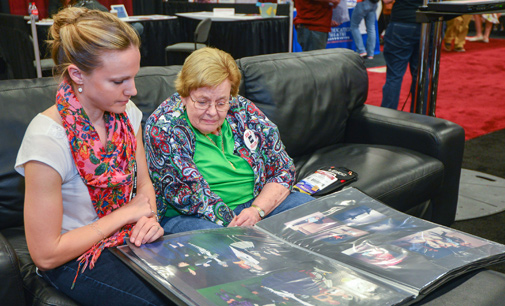 Informal mentoring and advice by Fellows has always been a big part of the Network Nexus meeting area at Stage Expo and at other times throughout the Annual Conference. However, this fall, USITT's Fellows will formalize it and establish a new level of career mentoring designed to target Early Career Members (ECMs) who plan to attend the 2015 Conference & Stage Expo in Cincinnati, Ohio in March.
Through an application process, Fellows will identify and select two ECMs to participate. Successful candidates will be chosen based on their background, work history, demonstrated competence in their field of interest, and ability to articulate their future goals. The successful candidates will be provided with full Conference registration and $1,000 to help offset Conference expenses.
Those chosen will be paired with a mentor. The pair have an initial, one hour "get acquainted" meeting at the start of the Conference where they will agree on how often, and when, they will meet during the rest of the event as well as the objectives of their association. Together they may wish to attend specific sessions, tour the Expo Floor, be introduced to some of the mentor's colleagues, and frequently meet to go over areas of special interest. The ultimate goal of the program is to establish a long-term relationship between the mentor and ECM.
The Chair of the Fellows will appoint a panel to review applications and select two participants. An invitation to apply for Early Career Mentoring Assistance will be sent directly to each ECM. The deadline for applications is December 15.
Eligibility requirements include:
Must be a USITT Early Career Member
Must have been a Member of USITT (any category) for a minimum of two years
Must agree to attend the Cincinnati Conference for the full conference period
Must agree to provide a written report of their Mentoring experience by May 30
Application materials to be submitted electronically must include:
Outline of short and long-term goals, including areas of interest and type of entertainment career applicant wishes to pursue (no more than one page)
Résumé (no more than one page)
Supporting documents (no more than ten images)
Written narrative explaining what establishing a mentorship relationship will mean to applicant's career (no more than one page)