News & Notices
Jack Feivou of Disney is USITT's New VP for Conferences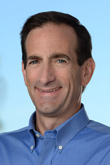 As a general manager of entertainment operations at Walt Disney World and a climber who has hiked around Mount Everest, Jack Feivou always sets his sights high. So of course he has lofty goals as USITT's new Vice President for Conferences.
For starters, he wants to make USITT's Annual Conference & Stage Expo worthy of the thousands of entertainment design and tech professionals it attracts.
"I want our students in the audience to say, 'Wow! This is the kind of production I want to do,'" he said. "I want all our presenters to succeed, whether it's a single session or the Fellows' address. I want everyone to have what they need to shine."
Jack Feivou has worked to produce events that shine since he saw his first high school musical in his native Connecticut. "I went with my friend to see his sister in Hello, Dolly, the summer before eighth grade," he recalled. The next year, he acted in Annie, Get Your Gun, and found "I had more fun building scenery."
He majored in Technical Theatre/Stage Management at Adelphi University in Long Island, graduating in 1987, and went on to production manage several theatre and dance companies. He attended his first USITT Conference in 1991 in Boston. "It was just the thing to do," he said.
He was a presenter (on fall protection) in 1996 in Fort Worth and has been heavily involved since.
Jack was events manager at the Austin Arts Center when he landed a job at Disney World in 1997. He became a Producer for Walt Disney Entertainment, with projects such as the 2000 Super Bowl Halftime Show and a 2006 Expedition Everest event with performers scaling a hotel in Times Square. He is now General Manager, Entertainment Operations, for Epcot, Downtown Disney and Disney Water Parks.
Producing large-scale live events means managing people and money just as technical directors manage "sticks and bricks," he said. For 10 years, he has shared his expertise with USITT's Stage Management Mentoring Program (SMMP), which pairs students with professional mentors for the Annual Conference.
"The students and mentors spend 8 a.m. to 10 p.m. together every day," he said. "I am still in touch with a lot of my mentees. In fact, one of my past mentees was a mentor last year!"
Mr. Feivou has served USITT as Vice Commissioner of the SMMP, Management Commissioner and Director on the USITT Board. He called VP for Conferences "a perfect synergy between my Institute membership and my professional career."
He said he complained for years that USITT "does a terrible job of presenting ourselves to ourselves," and now he gets to put his money where his mouth is. One example is moving the New Products Showcase – known as Brag & Swag – to Opening Night for USITT 2015 in Cincinnati.
"The festive atmosphere of Brag & Swag lends itself more to Opening Night," he said. "We aren't going to force-fit people who want to be partying into an event that's meant to be more formal. We'll have the right audience on the right nights."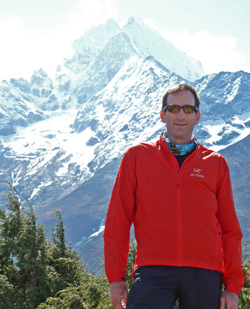 He said his mission is the same as at Disney: "to engage our attendees so they'll want to continue following the story we are telling."
His own story includes scaling heights, from a winter ascent of New Hampshire's Mount Washington to a 2011 trip to the lower peaks of Everest. He hopes to summit Washington's Mt. Rainier, but lately his spare time is spent watching younger son Nick play trumpet or visiting older son Zach, a second-generation USITT member, at the University of North Carolina School of the Arts.
"My favorite part of what I do is getting to work with great leaders and technicians every day," he said. "So with USITT, and especially our students, we need to be able to grow great leadership from the ground up."