News From
Contributing Members
ETC, Daktronics: Purchases Vortek Rigging Division
ETC (Electronic Theatre Controls, Inc.) and Daktronics have announced today that ETC has acquired the Vortek rigging division of Daktronics. All Vortek rigging products will be integrated into ETC's rigging portfolio and operations will be consolidated with ETC's primary manufacturing locations in Wisconsin by the year's end.
The transition of Vortek into the ETC Rigging family of products will double ETC's current offerings of stage machinery. They will be able to provide customers with a wide variety of custom-engineered heavy-lift, high-lift, and high-speed rigging solutions, which include orchestra shell, grand drape, and scoreboard lifts, along with synchronized acoustic panels, and motorized packaged hoists. By building upon the engineering experience of Vortek, ETC also plans to maintain a custom engineering design center.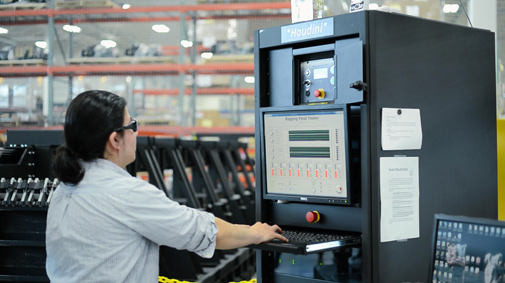 Vincent Lighting Systems: Conley Promoted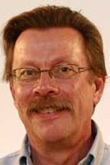 John Conley recently was promoted to product manager at Vincent Lighting Systems where he coordinates product offerings and long-term planning for that department.
With a strong background in technical theatre, Mr. Conley joined VLS 2011 in inside sales. He studied technical theatre at Kent State University and Baldwin Wallace College and worked for Berea Summer Theatre and Karamu House. He spent a good part of his career in the rigging industry in the Finger Lakes region of New York.
Stage Technologies: Partners for Five-Day Automation Course
The Guildhall School and Stage Technologies recently delivered a five-day Automation CPD Training course: Automation for the Entertainment Industry in one of the newest, fully-automated theatres in the United Kingdom – the Guildhall School's new building, Milton Court.
Practicing automation specialists from Stage Technologies delivered the training that included a mixture of hands-on practice and theory. It provided a thorough introduction to automation and eChameleon software.
The demand for skilled automation programmers and operators is higher than ever. There is also increasing need for other industry professionals, working alongside the technology, to have a good understanding of its uses and functionality.
Meyer Sound: MINA Balances Strength, Flexibility on Yoga Tour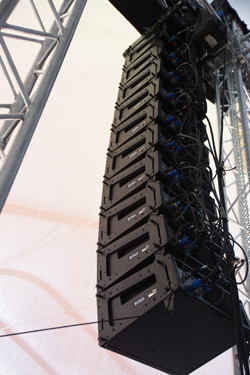 In choosing its touring sound reinforcement system, the Wanderlust Yoga Festival had very specific requirements: to provide both pristine vocal clarity for yoga instruction in the daytime and high-impact musical reinforcement for evening revelries. A Meyer Sound MINA line array loudspeaker system, supplied by DBS Audio Systems of Coatesville, Pennsylvania, met all these needs.
"In prior years we had used four different systems from four different suppliers, with inconsistent results," said Sage Anthony Plakosh, production manager for the tour. "This year we wanted to assure that the yoga teachers and musicians would get a consistent experience from venue to venue."
The main Wanderlust system is anchored by dual arrays of 10 MINA loudspeakers per side, with low end provided by four-per-side 650-P subwoofers arranged in end-fire directional arrays. Two UPJunior VariO loudspeakers serve as lip fills, and a Galileo loudspeaker management system with one Galileo 616 processor provides drive and optimization. The stage foldback system comprises eight UM-1P stage monitors plus two-each UPA-2P loudspeakers and USW-1P subwoofers for side and drum fills.
First launched in Squaw Valley, California in 2009, Wanderlust Yoga Festivals draw thousands of attendees by bringing together yoga students, world-renowned teachers, musicians, and inspirational speakers. This year's tour includes stops at major ski resorts in Vermont, Colorado, California, and British Columbia.
ETC: Sensor Control Installations in UK Soar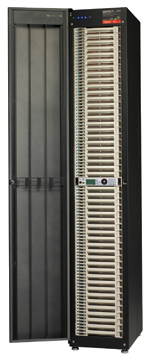 ETC's United Kingdom dealers have now installed over 28,000 Sensor power-control channels across central London, making ETC the most popular choice in the capital. If all the modules were stacked on top of one another, they would reach 3,215 feet (980m), making them significantly taller than the tallest building in the world, the Burj Khalifa – practically Lilliputian at 2,690 feet (820m) – whose nightly strobe-light shows are controlled by an ETC Congo control system.
The latest recipient of Sensor is the Prince Edward Theatre on Old Compton Street. The theatre's dimmers were last updated in 1993, and were due for renewal in time for the hit production of Miss Saigon. Five ETC Sensor3 power-control racks fitted with 240 modules, including ThruPower modules, were specified and installed.
ETC dealer White Light supplied the racks, with Projects Director Simon Needle overseeing the project and Project Manager Tony Coates acting as on-site supervisor.
PRG: Paridaen Promoted, Lambright Joins Firm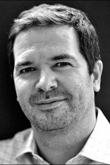 Stephan Paridaen has been promoted to president and chief operating officer at Production Resource Group (PRG), and Stephen Lambright has joined its executive leadership team as vice president of marketing.
Mr. Paridaen has served as PRG's chief executive officer for Europe, the Middle East, and Africa since 2009. In his new role, he will supervise the global operations of the company, the delivery of new technologies and services offerings, and the further development of PRG's efforts in the corporate and global special events markets. Previously, he was division president of media and entertainment at Barco, an international professional display solutions provider. While there, he led the Digital Cinema markets and created the LED display division, pioneering the convergence of video and lighting in the entertainment industry.
With over 20 years of international marketing and brand development experience, Mr. Lambright will be responsible for the company's global marketing strategies, implementation of marketing programs that enhance and expand PRG's industry leadership, and promotion of PRG innovations to partners and clients. As a member of the company's executive leadership team, he will report to CEO Jeremiah Harris.
Mr. Lambright is a proven marketing executive who brings deep integrated marketing and branding experience to PRG. He has held executive positions in marketing, strategy, and business development at some of the world's most innovative companies including XOJET, Apprion, Savi, NetObjects, Narus, and Informix. He received his MBA from the University of California, Berkeley, and his undergraduate degree from Northwestern University.
Barbizon Light: Santa Fe Opera Upgrades with New Equipment
In its quest for continuous improvement by incorporating new technology into productions, The Santa Fe Opera, in collaboration with Barbizon Light of the Rockies, has acquired a selection of the very latest in video technology. Included are five Hippotizer Rackoon media servers, four Panasonic 20K projectors, and a remote Zookeeper PC for networked Rackoon control. The powerful and flexible new system will allow the Opera to enhance existing scenery with mapped images or to quickly and easily experiment with and create virtual scenery.
The first show this season to use the new media server system was Carmen, followed by a double-bill, The Impressario and Le Rossignol, opening this month.
Find out about Barbizon at www.barbizon.com. TMB distributes Green Hippo products, including Hippotizer Media Servers and the new AViary Video Tools, in the Americas: Learn more about TMB's range of professional products and services at www.tmb.com.