News & Notices
PQ'11 Exhibit Unites Through Art

From the Edge, the national design exhibition that represented the United States at the 2011 Prague Quadrennial of Performance Design and Space, is now on display at the A.A. Bakhrushin State Theatre Museum in Moscow. A year in the making, the exhibit is receiving excellent media coverage and acclaim in the theatre arts community in Russia. USITT member Igor Roussanoff has spearheaded efforts to bridge the USA and Russia through the arts. He has previously curated exhibits at the Bakhrushin including Wilson and Burning Man last year.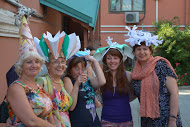 The U.S. exhibit showcases ensembles of theatre makers whose unique viewpoints were reflective of issues consuming Americans between 2007-2011. These included issues of identity, healing and obsessions with death and loss after 9/11 and hurricane Katrina; anger directed toward the obliviousness of many to the destruction of the planet; political polarities and ambiguities in reaction to the first African American president to be elected; tensions relative to race and gender; anxieties about technology; the pull of conscience inevitable when engaged in war; the role of religion in society; and the challenges of the differently-abled.
Costume activist Pat Oleszko performed and displayed her costumes and inflatable WarUSaurus thanks to the support of the USITT Fellows and their newly created Fellows Fund. In her opening remarks, Ms. Oleszko called artists both fools and shamans. She had furiously made hats for two days for attendees to sport during the opening reception. The hats were made of American and Russian newspapers as well as old posters from the museum- symbolic of the melding of two cultures into shared, wearable art.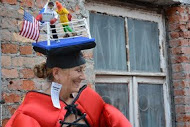 Garnering an enthusiastic reception on opening day, Sergei Barkhin, lead designer of the Bolshoi, entreated museum guests to learn from the exhibit and its unusual photographic format. Dmitry Rodionov, the director of the Bakhrushin noted that From the Edge is the first American performance design exhibition to be shown in Russia.
Rodionov has welcomed Igor Roussanoff's next venture: Costume Design at the Turn of the Century, an ambitious 21 country exhibition of world costume design between 1990 and 2015. This exhibit will run in tandem with the 2015 Prague Quadrennial in order to allow visitors to experience both at once on the European continent. It will be shown in as many as six of the Bakhrushin historic museum sites.