Conference & Stage Expo
New Technology for a New USITT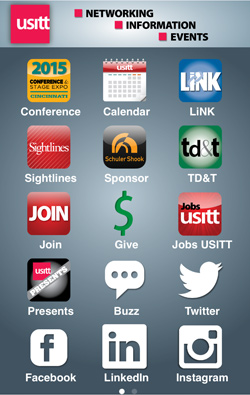 Many people believe USITT is only an event each March. Why wouldn't they? Their only interaction with USITT is for the Annual Conference & Stage Expo as an attendee or exhibitor. It is the single largest part of the Institute's business each year. But the reality of what USITT does each and every day can be best shown with the new USITT mobile app.
a2z has produced the online Stage Expo map, conference session management and search online, and conference mobile app for the past few years. Their product has dramatically improved the experience for attendees, working in partnership with the National Office Staff. Recently, a2z created a new product that will offer membership some added value and make transitions from one event to another easier.
Meet USITT 365! This is the first USITT association mobile app for everything the organization does. Download the new USITT 365 app at www.usitt.org/mobile
Although keeping up with technology can be an expensive venture, USITT is fortunate enough to have Schuler Shook Theatre Planners and Lighting Designers (www.schulershook.com) sponsor the new 365 portion of the mobile app. Schuler Shook is a long-time supporter of USITT's mission.
How many are aware that USITT has a jobs board? More than 50 jobs each day are online from manufacturers, universities, production companies, and others. The new mobile app has an icon for this job board.
Read Sightlines and TD&T. The links automatically update with the latest editions. Great content is just a touch away.
Information on other educational opportunities, like USITT Presents and the new Link program, will also be available.
USITT's Facebook, Twitter, Instagram, Tumblr, Linkedin, and Youtube can be accessed for daily announcements and information.
Inside the 365 app is an icon for the Conference & Stage Expo. This icon will open a new, secondary app completely devoted to the event in Cincinnati next March. There will be conference session information, exhibitor information, maps, products, and show specials. The 2015 version has new icons featuring the Special Events during the days in Cincy as well as Light Lab which returns in 2015.
Members will never need to download another USITT app in the future. The conference app will just be an update to the current 365 app for the 2016 event. This allows the Institute conveniently provide to members the content and information they deserve.