Conference & Stage Expo
Watch Them Work Shows Artists in Action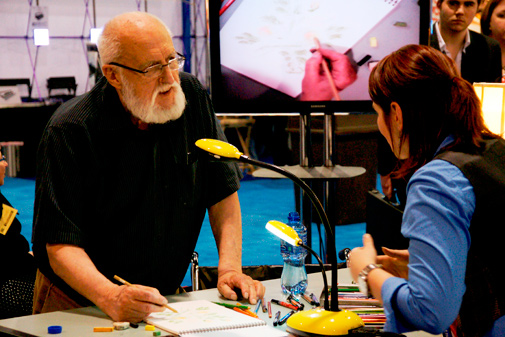 At last year's Annual Conference & Stage Expo, USITT's Education Commission tried something new – a space for theatrical designers to draw, paint, or draft ideas live on the Stage Expo floor.
They didn't expect world-famous set and costume designer Desmond Heeley to stop by and sketch for excited fans. But that's how Watch Them Work got off the ground.
"We thought it would be cool if we could invite people to come and draw as a way of showing the creative process at work," said Vice-Commissioner for Programming Ashley Bellet. "Desmond Heeley was a happy accident."
Mr. Heeley, who received 2013 USITT Distinguished Achievement Awards in both costume and scenic design, helped ensure Watch Them Work a place at the 2014 Conference & Stage Expo, to be held March 26 to 29 in Fort Worth, Texas.
While last year's planners liked the concept, they weren't sure how it might work, Ms. Bellet said. They approached Dan Denhart, Vice-President for Special Operations, who set up a work area with two drafting tables, two standard tables, and a camera to project the work on a nearby monitor.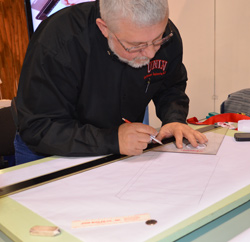 They stocked the spot with pens, pastels, and charcoal, and hoped to schedule different artists every 45 minutes or so to create in public, then display the works on 4-by-8-foot corner panels for the rest of the Conference.
"We thought, 'Yeah, we're going to bring in all these people,'" Ms. Bellet said. "But last year was the first year, so nobody knew what it was yet, and people were very busy with other events. So scheduling people was pretty difficult."
She said she asked Mr. Heeley's assistant if he might participate, thinking his fragile health and tight schedule wouldn't allow it. "But she said, 'He would love that!'" Ms. Bellet recalled.
Shortly after Stage Expo opened that Thursday, Mr. Heeley showed up and quickly attracted an audience.
"It was wonderful to watch," Ms. Bellet said. "He was there maybe 12 minutes, and he made two quick drawings, of a figure and some flowers. He made them very loose and messy," yet easily identified as a musketeer and a bouquet of yellow roses.
After his appearance, "I had people calling and asking to be part of it," Ms. Bellet said. "At one point, we had the tables filled with seven people drawing at once," she said. "Students would come by, grab a pen and paper, sit on the floor and start sketching."
Artists who participated last year included scenic and lighting designer Christopher Sousa-Wynn, costume designer Linda Pisano, former Hollywood set designer John Paul, and Ms. Bellet, a costume and set designer at Oklahoma City University School of Theatre.
"John Paul had some renderings he was working on for South Pacific, and he brought them and finished them at the show," she said. "I was sketching on Love's Labours Lost. I brought some renderings and colored them there."
Future exhibits will offer more materials, the ability to videotape the work session, and maybe even themes such as Scenes from Shakespeare, Ms. Bellet said. "We may even have people rendering or drafting on computer versus by hand. We could hold a drafting race in the spirit of fun."
She said the artists may donate their work to USITT's archives or take it home, whatever they choose. "This is more about the act of drawing than the product they create," she said.