News From
Regional Sections
Midwest: To Tour Wicked and Million Dollar Quartet
The Midwest Regional Section will host an exclusive, behind-the-scenes tour on Saturday, November 9 to see how the 10th anniversary production of Wicked is "Defying Gravity" in Chicago at the Oriental Theatre. Then we'll scurry on up to the Apollo for a tour of Million Dollar Quartet. A discounted showing of Million Dollar Quartet will be available at 5 p.m. Space is limited. More information is at midwest.usitt.org/programs.
Heart of America: Adding Machine: A Musical Explores Virtual Reality
In 1995, an internationally recognized production of Elmer Rice's Adding Machine established the University of Kansas theatre department as a leader in the use of virtual reality as scenographic medium. KU is a member of the Heart of America Regional Section.
The efforts were supported by a $2,000 grant to Mark Reaney to support a life-size, virtual reality interface as a scenographic tool and performance medium.
This November, the University Theatre will stage the latest in its series of virtual reality experiments with a production of Adding Machine: A Musical. The production will build on past experiences of using real-time computer simulations (virtual reality, or VR) as the primary scenic media but will further the experiment by using real-time video control and data projectors as the principal source of lighting for the production. Adding Machine: A Musical opens Nov 15.
For more information and updates visit the University of Kansas website.
Ohio Valley: Fall Conference Offers Variety, Ezekial Winners Announced
The Ohio Valley Regional Section held its fall conference September 14 at Bowling Green State University in Bowling Green, Ohio. The conference included 17 sessions in a wide variety of subject areas, including a focus on the Skelton Archives, an overview of international theatre festivals, and introductions to new and original design and construction methods. This year's conference broke the section's attendance record and included presenters from all around the United States.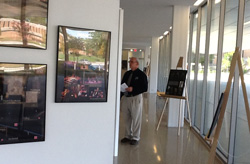 Part of the conference was the annual Peggy Ezekiel Design Exhibit. This yearly event showcases excellence in educational and professional design from the Section. Ten entrants were judged Distinguished and will be displayed at this year's USITT Annual Conference & Stage Expo. In addition, three winners were chosen as Board's Choice and awarded Annual Conference passes.
The top ten were Ben Williams, scenic design Midsummer Night's Dream (education category); Glen Vanderbilt, scenic design for After The Fall (professional); Ricky Lurie, for The Rose Tatoo at Ohio University (pro); Deanna Smith, prop craft/metal arts (education); Aaron Contreas for Mr. Marmalade (education); Katherine Behrens for Valkyrie helmet/armor showcase (education); and Susan Williams, costume design for Gently Suspended (education).
Boards Choice winners were Thomas Fiocchi, prop design for Three Musketeers (pro); Andie Hoffman, lighting design for Midsummer (edu); and John Salutz, lighting design for Lysistrata (edu).
The Ohio Valley Section would like to thank BGSU for its generous contributions of hosting, helping to plan, and facilitating the conference.
Desert State: Holds Backstage Tours, Fire Safety Presentation
On September 14, members of the Desert State Regional Section had a backstage tour of Jobing.com Arena, the home of the Phoenix Coyotes Hockey Team, followed by a backstage tour of the Tempe Arts Center and the opening performance of Childsplay's Robin Hood.
As part of Fire Prevention Month, the fire marshal at Arizona State University conducted a workshop for the Desert State Section on September 29 on various aspects of fire safety including how to talk with a fire marshal, the set up and safety of temporary structures, fire prevention and safety, CPR/AED awareness, and compression only training.
The Desert State Section will present several workshops at the Arizona Thespian Festival in November.
Southeast: Master Classes, Design Expo Focus on Hands On Art!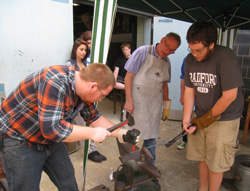 The Southeast Regional Section's annual Master Classes and Design Expo were hosted by the University of North Carolina School of the Arts in Winston-Salem, North Carolina September 13 and 14. Hands On Art! was the theme of this year's classes which covered a wide variety of topics and allowed participants to experience working with the techniques, materials, and equipment discussed and demonstrated in the sessions.
The Section also held its fall business meeting where it welcomed Zachary Stevenson (UNCSA) as its new Vice-Chair for Membership. Members thanked Doug Brown for his incredible years of dedication and service as Vice-Chair for Membership.
The Southeast Section would like to thank the faculty, staff, and students of UNCSA for being such gracious hosts. Thank you also to the all the presenters, adjudicators, volunteers, and organizers of this incredible event. Sustaining sponsors were Barbizon, Charlotte; BMI Supply; Sculptural Arts Coatings; Stage Rigging Services; and Stage Decoration & Supply.