News & Notices
Alliance Plans USITT Session, Webinar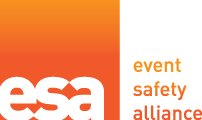 Safety & Health Commission "spoiler alert": at the Fort Worth 2014 Conference & Stage Expo, the Event Safety Alliance's Event Safety Guide will be highlighted at one of the conference sessions.
Those who haven't yet downloaded a copy of the guide can go to eventsafetyalliance.org for a copy and for information about the Alliance. The Guide has been out in draft form for review and comment since February, and input from the entertainment industry is critical to its success and completeness.
Among ESA's many activities and programs, the Alliance is partnering with Take1 Insurance to host a webinar on Live Event Safety. This webinar, expected to be the first of series, "will detail the importance and responsibilities of live event safety for those who promote, produce, and insure live events." The Live Event Safety webinar will be held on 2 p.m. EST Wednesday, November 13.
More information about the ESA and a link to register for the webinar are available at the ESA website. Reading the Event Safety Guide and participating in the Live Event Safety webinar will help prepare you for the ESA session at the USITT Conference.
The ESA will also host a presentation at LDI 2013 in Las Vegas, Nevada November 22 to 24.