News & Notices
Fort Worth Opera's Darren K. Woods to Receive DeGaetani Award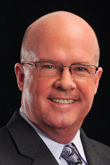 Each year at its Annual Conference & Stage Expo, USITT gives the Thomas DeGaetani Award to a person or organization whose work has greatly furthered performing arts in the region where the Conference is held. For 2014, planners agreed the obvious choice is Fort Worth Opera General Director Darren K. Woods.
"Since arriving in Fort Worth in 2001, Mr. Woods's leadership and artistic vision have revitalized the Fort Worth Opera," Vice-President for Conferences David W. Will wrote in his nomination. "His work has contributed to the art culture of Fort Worth and aided in the economic impact of tourism."
USITT founded the DeGaetani Award in 1983 in memory of its first president. Mr. Woods will receive the award on Opening Night of the 2014 Conference at the Fort Worth Convention Center.
"I am honored and, for a change, speechless," he wrote on learning the news.
Mr. Woods is considered an opera hero, and not just in Fort Worth. He is credited with rescuing the Shreveport Opera in Louisiana in just two years at its helm (1999-2001) and with assuring his beloved Seagle Music Colony – in the Adirondack town of Schroon Lake, New York – a healthy spot on the musical map for years to come.
His Fort Worth position brought him back in his native Lone Star State. He grew up in Luling and graduated from the University of Houston in 1982. In 1980, as a 20-year-old tenor with the Houston Grand Opera, he spent a summer at Seagle, the nation's oldest summer vocal training studio. He went on to a professional career singing in such venues as the New York City Opera, Carnegie Hall, Washington Opera, Santa Fe Opera, and Dallas Opera.
His heart stayed at Seagle through many moves. In 1996, he took a one-year job as its general director and never really left. "Since that time, the Colony has experienced incredible growth in almost every aspect including budget, production quality, facilities, and faculty/staff," according to the Seagle website. "The caliber of young artists at the Colony continues to rival any other program in the world."
Mr. Woods retired from singing in 1999 to manage in Shreveport and then Fort Worth, but he still serves Seagle as artistic director. Last year, he and his partner of 33 years were married where they first met, on the Seagle stage.
His work in Shreveport and Fort Worth cemented Mr. Woods' reputation as a "turnaround master" (Opera News, August 2009). Under his leadership, Fort Worth Opera has made major changes and grabbed national attention for its artistry and focus on rarely-performed works. He scrapped a slate of old standbys in favor of newer works, launched the Fort Worth Opera Studio to train young singers and bring opera into schools, and streamlined the opera's season into a month-long festival that stages several productions each Spring.
Other creative programming includes Opera Shots (opera in bars), a new works competition called Frontiers, and Leadership FWOpera, a young professionals group to cultivate the next generation of opera lovers.
Last year, Opera News named Mr. Woods one of opera's top 25 influencers. In 2011, he was appointed vice chairman of the board of OPERA America, the national service organization for opera.
Perhaps his greatest achievement has been uniting Fort Worth arts organizations into a community that works together instead of competing.
"We began building new ways to connect with audiences, starting with having an 'Overture' at the Modern Art Museum that would include a composer talking about his work with singers performing it," he explained. "We formed partnerships with the Amon Carter and Kimbell Art Museums which interlocked exhibits with opera. In changing to the festival format in 2007, we wanted everyone in town doing something with, for, or about the opera. In all this, all the organizations realized we are much better together."