International
WSD Packed with Events, Excitement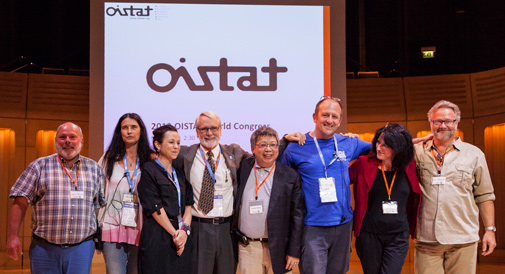 World Stage Design (WSD) 2013 was held at the Royal Welsh College of Music & Drama in Cardiff, Wales September 8 to 14 under the leadership of Sean Crowley, director of drama, and Ian Evans, technical director. The hospitality and facilities provided by the college were superb and provided an environment that allowed most of the events to be connected and participants to interact.
This was the inaugural combination of three major events: WSD 2013, the Congress of Organisation Internationale des Scénografes, Techniciens et Architectes de Théatre (OISTAT), and Scenofest, an event previously held in conjunction with the Prague Quadrennial (PQ). Estimated total attendance was 2,000 individuals. There were a wide variety of workshops, performances, and seminars along with a costume day tour to Bath and an architecture day tour to visit Welsh theatres.
A puppet show, The Stolen Heart, worked its way around Bute Park; two exciting pieces by the Welsh National Ballet premiered; and interactive performance art was among the many events offered. The work of over 100 international performance designers was on exhibit and awards presented.
Exceptional Achievement Across All Categories:
Gold – Sophie Jump, Silver – Ulla Kassius, and Bronze – Conor Murphy.
Categories:
Set Design – Jamie Varatan, Costume Design – Simona Rybakova, Lighting Design – Xochitl Gonzalez Quintanilla, Sound Design – Igor Drevalev, Interactive and New Media – Tung-Yen Chou, Performance Design – Ulla Kassius, Installation Design – David Shearing, and Temporary Sustainable Theatre "The Willow Theatre" – Tim Lai and Brad Steinmetz .
OISTAT election winners:
President - Louis Janssen (Netherlands); Vice President - Duncan Chang (Taiwan); Treasurer - Michael Ramsaur (United States); Secretary - Sean Crowley (UK – Wales); Liaison to Governing Board - Marina Raytchinova (Bulgaria); Liaison to PQ - Aby Cohen (Brazil); and Committee Members - Bert Detterman (Netherlands) and Milijana Zekovic (Serbia).
For more information, visit www.oistat.org or www.wsd2013.com.