News From
Sustaining Members
Fox Studios: Welcome New Member
We welcome Fox Studios as a new Sustaining member of USITT.
At 20th Century Fox Studios, the production departments are best known for the sets, signs, and facades they have created for favorite television shows and motion pictures over the years.
For the last decade, the Fox Studios staff shop has been supplying these skins and ornamental details to theatres and university drama departments nation-wide. The Fox staff shop has the largest vacuum-form and state-of-the-art fiberglass spray booths in Hollywood.
For more information, visit www.foxstudios.com.
German Light Products: Company, College Partner to Enhance Training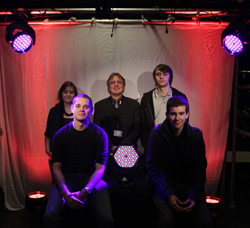 The lighting design program at Rose Bruford College of Theatre and Performance in Outer London, United Kingdom, and German Light Products (GLP) are collaborating to enhance training for the next generation of lighting designers and technicians.
GLP's Udo Künzler and Mark Ravenhill have supplied the college with six Impression 90 LED moving heads on a long-term loan. The units have been installed in the college's unique lighting training and research laboratories, and are available to the lighting design students for general assignments as well as to augment their designs for a range of innovative lighting projects.

Rose Bruford and GLP are collaborating on developing a close partnership, working together to provide the best possible training to students and professionals.
Nemetschek Vectorworks, Inc.: Releases Updated Software, Apple Mobile System Support
Nemetschek Vectorworks, Inc. announced the release of the 2014 version of its award-winning Vectorworks line of design software.
The software includes more than 130 improvements that were developed for better modeling, BIM management, interoperability, usability, performance, and quality. It also features new BIM tools for architects, increased site design capabilities for landscape architects and designers, and enhancements to lighting devices, documentation, and graphic controls for entertainment designers. Additional information about the 2014 release is available at www.vectorworks.net/2014.
Nemetschek Vectorworks also announced mobile support for Apple iOS 7. This means that the company's mobile application, Vectorworks Nomad, will support the new iOS 7 mobile operating system and match the new user interface look and feel. Current Vectorworks Nomad users can switch to the new iOS 7 by updating from the app store, and new users can download it here.
Stagecraft Institute of Las Vegas: Sound Leader, Consortium to Direct Session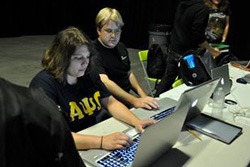 Industry leader Jonathan Deans and the Las Vegas Sound Consortium will take the lead on the Stagecraft Institute of Las Vegas's audio session in 2014.
Aaron Beck from Cirque du Soleil's Michael Jackson's 'One' and the LV Consortium have already outlined the 2014 program and are ready to roll as the SILV third week of training on June 23 to 27. Audio will again be housed at Solotech with the gracious assistance of Francis Leroux.
L-ACOUSTICS: System Supports Austin City Limits Festival
Following in the footsteps of Coachella, the 12th annual Austin City Limits (ACL) Music Festival doubled its attendance at Zilker Park this year by expanding its usual three-day concert to two identical lineups on consecutive weekends in early October. For sound reinforcement duties on one of the festival's largest stages – known as AMD on the first weekend and Lady Bird on the second – Houston-based LD Systems chose to deploy a full L-ACOUSTICS K1 loudspeaker system.
Out of the more than 140 groups performing at this year's ACL Music Festival, AMD/Lady Bird hosted some of the biggest headliners including Depeche Mode, The Cure, Vampire Weekend, fun., The National, Passion Pit, and Atoms For Peace, featuring members of Radiohead, Red Hot Chili Peppers, and Beck.
For more information on LD Systems, log on to www.ldsystems.com. Named after the long-running PBS concert television series, Austin City Limits Music Festival featured eight concert stages and completely sold-out both weekends this year. For more details on the event, visit www.aclfestival.com.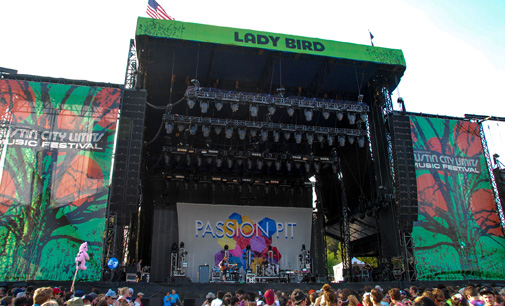 iWeiss Theatrical Solutions: Dusek Named Project Manager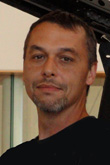 Russ Dusek will join the staff of iWeiss Theatrical Solutions as a project manager to better serve clients and projects in the Chicago Mid-West region.
Mr. Dusek comes to iWeiss from Reed Rigging, bringing over 25 years of experience, not only in rigging and permanent installation, but with extensive work in the ETCP program.
He will manage a rigging installation at the new Sun Theatre in St. Louis, Missouri. In addition, he will manage a project that involves an F/A 18 Hornet currently housed at the National Museum of the Marine Corps in Quantico, Virginia. The company will partner with Century Aviation who will complete the restoration in Wenatchee, Washington followed by the design to support the re-installation of the jet.
Visit www.iweiss.com/about/meet-the-staff.html for contact information.