International
Research Commission Highlights Projects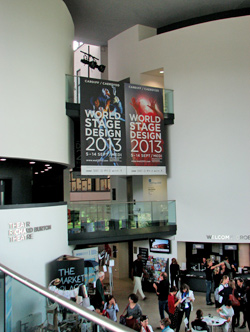 During World Stage Design 2013, on September 12, OISTAT's Research Commission held its annual business meeting. Twenty-five OISTAT members from Australia, Belgium, Brazil, Canada, Finland, Georgia, Greece, Italy, New Zealand, Portugal, Serbia, South Africa, Spain, Sweden, United Kingdom, and the United States attended. Several projects were discussed.
TESTing 2013 explored topics in performance design and space over a five day span. There were nine research projects involving 13 researchers. They were peer-reviewed and selected from 30 applications.
Each TESTing research project was presented as research in-progress and received feedback from OISTAT Research commission members, invited distinguished researchers, and conference guests. Projects included Xristina Penna's Making Up Two Minds – a scenographic experiment; Rat Western's Machine for Living, Part One: A Devised Divination; a collaboration between Anna Birch, Rachel Hann, Kathleen Irwin, and Athena Stourna titled Mother Tongue - Adapting/Translating/Transcribing/Performing Food; and Sam Trubridge's Oro – the vanishing point. Click here for more information about each individual TESTing 2013 project.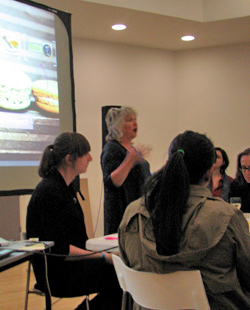 The research commission discussed a new publication proposal, 5x5 In Time, which would focus on 25 international performance design projects from the past four years. 5x5 In Time would investigate five potential categories of performance design and consider five contemporary projects within each category. The project is in the final proposal stages with plans to publish the first series of essays by PQ 2015. Future publications would follow at two year intervals.
The commission discussed methods to use the OISTAT web page to share current research projects among OISTAT members. The commission will update its web page with current research projects and publications by commission members to facilitate further research collaboration.
The Research Commission proposed a theatre publications database that will include books, book chapters, and essays recommended by OISTAT members. More information about submitting recommendations to this project will be forthcoming.
The Research Commission welcomes all USITT members (including student researchers) to attend OISTAT Research Commission meetings. All members are encouraged to submit presentation abstracts and proposals when the call for papers announcement occurs.
The next OISTAT Research Commission business meeting will be August 10 to 15, 2014 in São Paulo, Brazil during the joint OISTAT Performance Design, Research, and Education commission meetings. For more information about OISTAT, please go to www.oistat.org. For more about USITT – International Committee and the Institute's international activities, visit the Facebook page USITT – International Activities.