International
Theatre of Squatters
This September, OISTAT held its World Congress in Cardiff, Wales in conjunction with World Stage Design 2013. New members of the executive committee were elected, and many working groups met to discuss past and future activities. But it was a brief presentation by scenographer and longtime Peter Brook collaborator, Jean-Guy Lecat, that captured the attention of those who attended the OISTAT Performance Design Commission meeting.
Mr. Lecat's career in theatre and the performing arts spans nearly 50 years. He has worked extensively as a scenographer for a variety of theatre, dance, and opera productions around the world. A true theatre artist, he has also worked as a technical director, stage manager, actor, designer for television, theatre architectural consultant, and self-described space designer. However, Mr. Lecat is best known for his 24-year association with Peter Brook. During their extensive collaboration, Mr. Lecat designed, built, or transformed over 200 theatrical spaces, including La MaMa in New York, Copenhagen's East Gasworks Theatre, and Glasgow's Tramway.
Mr. Lecat shared photographs and stories that show artists employing derelict theatre spaces to mount all manner of performances and art exhibitions from a number of new theatre endeavors around the world. In some cases, artists occupy the theatres (in the Occupy Wall Street sense of the word) seeking to save a historic but abandoned space marked for demolition to make way for condominiums. In other instances, the occupiers seek to force the local government's hand in making use of neglected theatres. The activities often fall in grey areas of the law. Though these theatres are often architecturally significant spaces, with decaying elegant boxes and flaking frescoed ceilings, the emphasis is not on restoration but utilization. With public money increasingly scarce, theatre artists are seeking to make use of spaces "as-is" instead of waiting for building rehabilitation that may never come.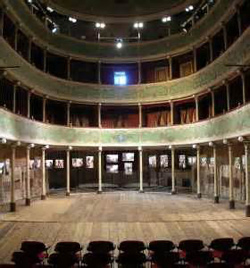 A dilapidated and long-unused theatre located in an Italian castle in Gualtier was deemed safe for occupation. The space was cleaned up and minimal electric and heating service was brought in. No effort was made, however, to restore the original splendor of the architecture. In fact, the house was razed and a stage was constructed from found materials where the audience once sat; the former stage now served as a seating area. The issue that frequently arises when confronting an abandoned theatre space—it will cost too much to restore—was circumvented by not seeking to renovate to a past glory or even to a familiar modern standard.
Mr. Lecat told the story of another theatre space in Lido, Italy, located in a publicly owned, abandoned hospital. The space was initially occupied illegally. The local police were even called out to evict the squatting artists. After a plea to the court, however, the eviction was halted, which Mr. Lecat attributed to the building being a public asset rather than private property. Since the stay of eviction, the theatre and parts of the hospital have hosted concerts, theatrical performances, art gallery shows, and even a Catholic mass.
Mr. Lecat cited many other examples of performance spaces: a Russian beach resort, a slaughterhouse, a Roman cinema, a train roundhouse, a boat storage facility, and a Paris theatre already partially demolished to make room for a parking garage. He asserted that often it is the technically minded theatre practitioners who seek to "over-restore" a space; an effort to establish a facility resembling something familiar with all the trappings they may have enjoyed in other theatres. The report posed the question, "Is it better to utilize the space or restore the space?" Which is more likely?
Mr. Lecat's presentation follows up on his 2007 OISTAT publication, Un Spectacle, Un Public, Un Seul Espace (One Show, One Audience, One Single Space). Ultimately, the emphasis of his talk was less on individual accomplishments in any one theatre or project, and more of a push for younger artists to create their own spaces and theatre work rather than relying on established organizations. It was a call to the established theatre professionals to teach emerging artists that the play's the thing, and they have the ability to create their theatre art on their own, even if it means prying out nails from boarded-up windows.