Conference & Stage Expo
Seek Creative Drops to Display in Fort Worth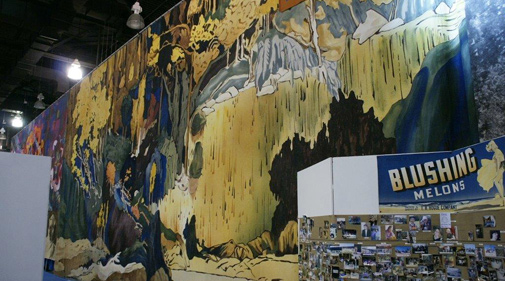 USITT is seeking submissions of creative backdrops to display on a giant section of wall at its 2014 Stage Expo in Fort Worth, Texas. The Scenic Artist Showcase will highlight scene design and painting by professional, academic, and student artists as well as digitally printed drops. The deadline for submissions is November 15.
"The Scenic Artist Showcase came out of last year's Annual Conference & Stage Expo, when we honored the work of Cobalt Studios," said Executive Director David Grindle.
"We took one end of the Stage Expo and covered it in drops that Cobalt and its students had designed and painted. It gave a fabulous nod to art on a scale that we use regularly, but don't often get to appreciate in a context where you can see over 120 feet of drops in one place."
The positive reaction to the Cobalt display prompted Mr. Grindle and Vice-President for Special Operations Dan Denhart to suggest a "wall of drops" by various designers and painters for 2014. The juried exhibit is open to work produced or built between October 2012 and October 2013. At least one member of the team of designers/painters/presenters must be a USITT member.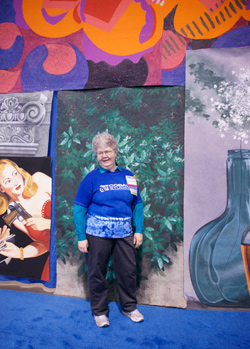 The four submission categories are Professional designers and painters, Academic teams of faculty and students, Student designers and painters, and Printed Drops by any designer. Submissions must be made electronically and include one full photo and one detail photo of the backdrop. A submission form can be found here.
A jury of scenic painters and designers will choose the drops for display in Fort Worth based on creativity and quality.
Having a showcase of drops at Stage Expo injects additional artistic elements into Stage Expo and provides a great canvas for the work, Mr. Grindle said. "Scenic art is part of who we are – it's a wonderful blend of design and technology. For a designer to design such a large-scale work of art is a great thing, and then for a scenic artists to realize it is amazing. Sometimes the designer is the person painting, and sometimes it's a whole team of painters."
"To really be able to see this kind of art, you have to have vast amounts of space," he added. "So a convention center is the perfect place to show it."