News From
Around the Institute
Five Represent Institute at PLASA
Executive Director David Grindle brought three National Office staff and a 2013 YD&T Award winner to represent USITT at PLASA London, held at ExCel London October 6 to 9.
Stage Expo Manager Ron Procopio, Education and Training Coordinator Christine Troscher, and Communications Associate Janet Gramza helped David staff USITT's booth, handing out swag and information on USITT programs. Ethan Vail, winner of the 2013 USITT Lighting Design Award for Young Designers & Technicians sponsored by Barbizon, showed his portfolio and fielded questions by British students interested in technical theatre careers.
USITT's group got to check out the many sound, lighting, projection, and effect products being offered by 200-plus companies and greet lots of Institute members, including some 30 companies that are Contributing or Sustaining members!
Among other friends were a contingent from DTHG, our German counterpart, shown here. From left are DTHG CEO Hubert Elkhart, Gabrielle Hoegg, Karlheinz Mittelstaedt, and David Grindle.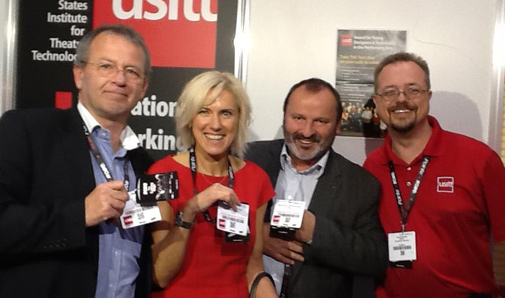 Riders Schedule 11th Event
The 11th annual Long Reach Long Riders charity ride, dubbed Carpe Diem! Carpe Twisty! 11 Great Years of Riding, is scheduled for July 12 to 19. The ride will begin in Baltimore, Maryland and meander through the West Virginia mountains, the horse country of Virginia, and the rolling hills and cornfields of central Pennsylvania before returning to Baltimore.
Building on the success of last year's ride through the Great Lakes, Ride Marshals Kacey Coffin and Moe Conn are hard at work finalizing the route and organizing lodging and meals for what is shaping up to be the largest group of riders yet.
The Long Reach Long Riders began riding for Broadway Cares/Equity Fights AIDS and The ESTA Foundation's Behind the Scenes program in 2004. Since that first ride the LRLR, which is made up of entertainment industry professionals, has raised more than $400,000.00. For more information, visit lrlr.org.
Member Serves on Jury for Columbian Theatre Competition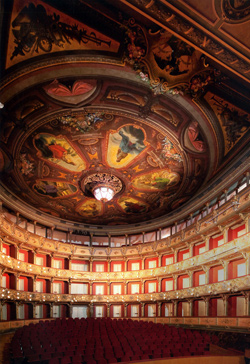 The Colombian Ministry of Culture asked Scott F. Georgeson, FAIA, of Workshop Architects, to serve as the Ministry of Culture's representative for the Teatro de Cristobal Colon - Bogota, International Design Competition jury.
The two-stage Colon Theatre Competition is a joint effort between the Colombia Ministry of Culture and the Colombian Association of Architects. Located in the heart of Historic Bogota, the 1892 "Italian style" theatre has been declared a National Cultural Heritage Building. The competition's design goals are to maintain the historic qualities of the site, respect the adjacent cultural monuments, and make an architectural statement for the 21st century.
The jury of five international theatre architects met in Bogota August 12 to 14 to review 49 submissions. Five teams were selected to refine their design and resubmit them for a second round of judging. Mr. Georgeson returned to Bogota October 22 to help select the winning team. He was asked to join the jury to share his expertise in theatre design, sustainability, historic buildings, and understanding of fitting complex programs into an existing urban context. With over 150 theatre projects in his portfolio, he has focused his practice on building a knowledge base for every aspect of performing arts architecture.
For further information on the competition go to www.sociedadcolombianadearquitectos.org.