Conference & Stage Expo
Night Life in Fort Worth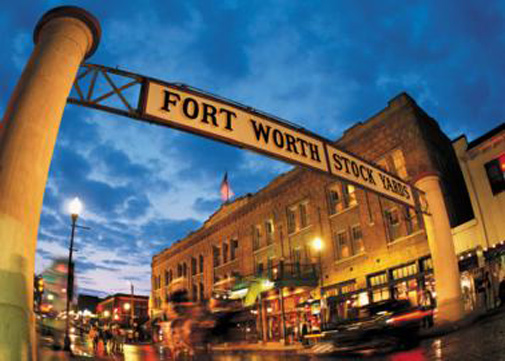 Thinking ahead to March, a great day of Conference sessions and conversation is winding down and thoughts turn to what might be available for nighttime activities. Whether it be relaxing with a glass of wine or kicking up your heels at the local honkytonk, Fort Worth has something for everyone. Like most cities around the country there are sections that are defined that have a grouping of bars, restaurants, clubs and what have you.
Fort Worth is no different. In a relatively short article, there is no possible way to list everything, but, here is a good start.
Let's start in downtown. Located in the heart of Fort Worth, Sundance Square is a great place to go to find a variety of things to do. Someone who likes beer and wishes for a broad selection of choices will enjoy The Flying Saucer. Voted by GQ as one of the 12 best bars in the US, The Flying Saucer is a great place to kick back and enjoy a drink in the beer garden. Those who want a laugh should head to Hyena's Comedy Night Club and check out the talent that Hyena's always brings in. Need something on the cool (shades not temperature) side? Check out Scat Jazz Club located in the historic Woolworth Building. Don't miss the artists that grace their stage and provide the best of traditional jazz.
Located near the cultural district, West 7th Street is our next destination. If you are looking for a neighborhood feel with some cool photography and styling for possibly a martini or a microbrew or wine, then you need to hit up Bar Louie. Need a movie? Need a movie and some food? Need a movie and some food and some (adult) drinks? You need Movie Tavern, a full dining experience with the latest film out. Maybe you want a completely new experience, then grab some friends and go to Lucky Strike Lanes – a combination of a bar, bowling and great art.
Rounding out this list is, of course, The Stockyards National Historic District, one of the most recognized areas of Fort Worth. And, within The Stockyards is Billy Bob's Texas "The World's Largest Honky Tonk." Billy Bob's offers over two acres of interior space featuring live music, dance lessons, pool tables, more bars than you can count. On Friday and Saturday you can take in live bull riding. Want the honky tonk, but not two acres worth? Head over to the White Elephant Saloon. At 100+ years old, it will take you back into the saloon days of old with its rustic interior and grand history; you'll hear some good music too! Another trip to the past is the Historic Stockyards Hotel in which you can find Booger Red's Saloon and sit atop your bar stool in a saddle!
This is just the tip of the iceberg. I hope it gives you a good start!