News From
Contributing Members
Daktronics: Washington State School Gets Automated Rigging System
Audiences in Woodinville, Washington, will experience their 2013 opening performances at the new Woodinville High School Theater equipped with a Daktronics automated rigging system. The new 450-seat theatre was part of a multi-phased building and renovation project.
The high school is included in Seattle's Northshore School District, well-known for its excellence in theatre productions and already operating a performing arts center on one of its campuses.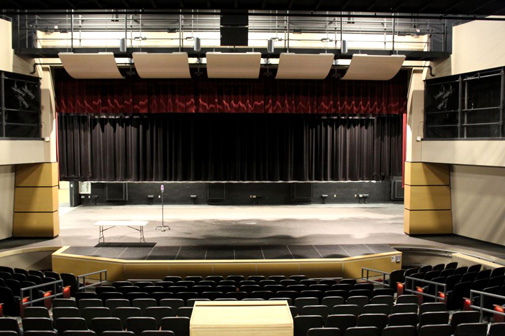 Barbizon: Adds Lighting Systems to Offerings
Barbizon is now a distributor of Darklight Precision Lighting Systems.
Darklight was founded in 2010 as a manufacturer of special effects lighting equipment catering to the themed attraction industry. It specializes in illumination in low-light and space constrained environments where traditional theatrical luminaires are not suitable. The "Precision" series of LED fixtures were developed with compactness, safety, modularity, and ease of use in mind. In 2012 the "Gantom" series of fixtures was launched catering to the professional lighting and architectural markets. For more information check out the website or call to schedule a demonstration.
PLASA: New Venue, Much Success for London Event
The annual PLASA event, PLASA London 2013, proved a great success with exhibitors and visitors alike at its new home at ExCeL London. Over 11,000 visitors attended the show with more than 3,000 attending on multiple days. International interest was high, with more than 2,200 visitors from 84 countries.
USITT's stand, which included Lighting Design Award by Barbizon winner Ethan Vail, saw much traffic.
The PLASA Awards for Innovation, sponsored by Lighting & Sound International magazine, congratulated 10 winners. Other award ceremonies included the Knight of Illumination Awards, and the inaugural Technical Theatre Awards.
The 4th annual Rigging Conference which ran alongside PLASA London 2013 was a great success with 140 delegates representing 15 countries. The conference was opened by a highly engaging key-note delivered by industry legend Robin Elias of Unusual Rigging, and for the first time, the event covered structures as well as rigging issues, which proved very popular.
PLASA London 2014 returns to ExCeL on October 5 to 8.
City Theatrical: Introduces LED Tape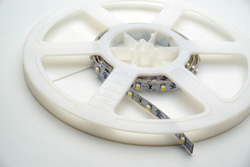 City Theatrical recently introduced QolorFLEX LED tape, a revolutionary product allowing lighting users to put light in places that were impossible in the past and to create lighting fixtures and lighting effects in new and inexpensive ways
The tape is manufactured to City Theatrical's exact specifications for professional use in theatrical, film, and video applications. QolorFLEX LED tape is available in a variety of types such as single color, RGB, RGBA, and RGBW.
QolorFLEX LED Tape Product Information can be found here.
ETC: Updates Belgian Venues
Antwerp, Belgium's De Vlaamse Opera and Koninklijk Ballet van Vlaanderen (Royal Ballet Flanders) – two venues that are set to merge – were looking for new lighting control systems at the same time. After trying out options from a range of different manufacturers, both venues chose ETC Gio.
The Opera's old desk was coming to the end of its life, and the venue's managers wanted a newer, modern desk, that could easily handle conventional lights, moving heads, LEDs, and media servers.
For more information about ETC Rigging and all of ETC's award-winning products, visit www.etcconnect.com.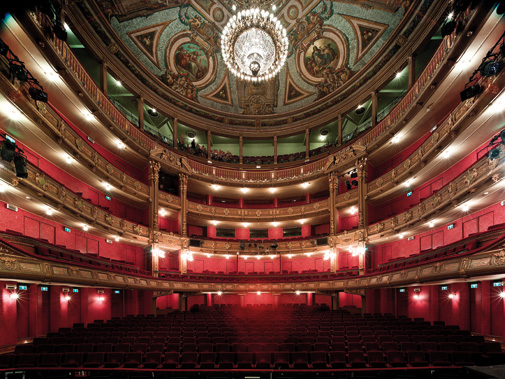 Creative Stage Lighting: Lemery Named Controller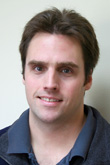 Creative Stage Lighting has hired Jason Lemery as controller.
Mr. Lemery's responsibilities will include overseeing financial components of the organization. He will also lend his talents to CSL's general management.
Meyer Sound: Offers Tutorial Videos, Adds Products to Exploratorium
To expand its training support for product users, Meyer Sound has released two new online tutorial videos focusing on the use of the MAPP Online Pro acoustical prediction program and the Compass control software for the CAL column array loudspeakers. These videos are available on the Meyer Sound website and on YouTube.
These new product training resources complement Meyer Sound's comprehensive education program, which dates back to the 1980s. The program offers audio education seminars and webinars for practitioners of all skill levels, and includes topics from technical fundamentals to sound system design and optimization.
Billed by the New York Times as "the most important science museum to have opened since the mid-20th century," San Francisco's Exploratorium recently opened its new multidisciplinary theatre, the Kanbar Forum, and has been the first museum facility to install a Constellation acoustic system, supplemented with a palette of other audio tools from Meyer Sound.
Visit www.meyersound.com for more information.