News & Notices
And the Award Goes to...
Safety Guru Tom Young!

Tom Young describes backstage safety as "one of my passions." Some might call it an obsession. In his nearly 20 years at JR Clancy in Syracuse, Mr. Young performed hundreds of inspections and wrote dozens of articles on the basics of safe rigging, setting the stage for safer practices in the industry and at theatres around the world.
                                               
Mr. Young, who retired as vice president of marketing at JR Clancy last year, will receive USITT's 2013 Joel E. Rubin Founder's Award, given to a member for outstanding, continued service to the Institute. It will be presented on Wednesday evening, March 20, 2013.
Mr. Young, a 1974 graduate of Carnegie Mellon University in Pittsburgh, spent the first decade of his career as an electrical engineer. He helped pioneer the use of computers in lighting control systems for theatres and television studios, first at Skirpan Lighting Controls in New York and, later, at Colortran in Los Angeles and New York. He joined USITT in 1976 and stayed involved throughout his career.
In 1985, he changed his focus and joined Hoffend & Sons theatrical rigging in Upstate New York. "Moving equipment overhead is much more challenging and dangerous than lighting," he wrote.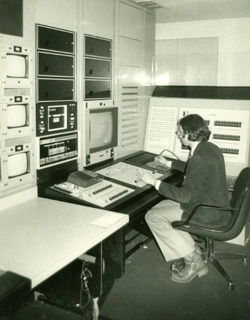 Mr. Young oversaw development of the MicroCommander, a motorized scenery movement system first installed at the Royal Opera House in Brussels, Belgium. Ten years of international travel followed as he directed projects including the Liceu Opera in Barcelona, Spain; Teatro Colon Opera House in Buenos Aires, Argentina; and cruise ships to South American, Jordan, and Asia.
"The international work was fascinating," he wrote. "It was amazing to see the many different approaches to theatre technology."
The common concern at every venue was safety. In 1999, Mr. Young became VP of marketing at JR Clancy and ushered the company into the 21st century while taking a lead role in safety.
"Tom's passion for rigging safety championed our initiative to be the leader in backstage safety, working to get the right materials and messages about safe rigging operation out to every user, from high schools to the most sophisticated opera houses," JR Clancy President Mike Murphy Jr. said.
Mr. Young said his career was about helping theatres get the equipment they needed to support their productions artistically, reliably, economically and safely. He started the TIM program -- for Train, Inspect, Maintain -- to increase backstage safety. His work can be seen in many publications and web pages, including www.rigging-safety.com and www.promotesafesets.com.
He also encouraged JR Clancy to sponsor USITT's Rigging Safety Initiative, which offers rigging inspections and training to middle and high school stage crews nationwide. The program has funded inspections and training at 35-plus schools in 18 states since 2011.
An enthusiastic member of USITT, he served two terms as a Director and on the Finance Committee for more than a decade, among other roles. He said his work with USITT has been gratifying. "The more we can communicate, teach, and listen, the more we learn," he wrote.
The award is named for renowned theatre consultant and lighting designer Joel E. Rubin, who helped found USITT in 1960.