Conference & Stage Expo
Regional PDWs: Milwaukee and Madison, Plus...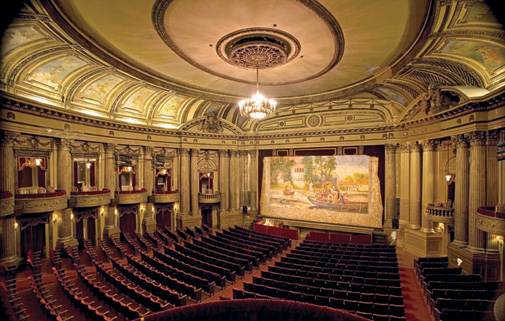 The Midwest Region of USITT is home to great theatrical gems – some so fascinating it may be hard to choose among three tours USITT is offering March 19, the day before the 2013 Annual Conference & Stage Expo in Milwaukee.
Early arrivals can choose from these exciting Regional Events:
ETC, etc. – Visit the global headquarters of Electronic Theatre Controls in Middleton, Wisconsin, home of ETC and its famed CEO, Fred Foster, who dropped out of college to start the company. A visit to ETC, with its Town Square of an atrium, a meet and greet with Mr. Foster and presentations by ETC heads, will be capped with a tour of the Overture Center, the Cesar Pelli-designed performing arts center and gallery in nearby Madison.
Step Right Up -- Spend a day at the Circus: Circus World Museum and the Al Ringling Theatre in Baraboo, Wisconsin. Circus expert LaVahn Hoh will guide a tour of Circus World, which boasts original buildings from the Ringling Bros. Circus and the world's largest collection of circus wagons. The Al Ringling Theatre, designed in 1915, was the nation's first "movie palace" and remains an architectural treasure. And the Clown Hall of Fame has costumes and props from America's best-known clowns.
Costumes! – Head to Chicago to see the Chicago History Museum, with its special costume history exhibits; then check out the historic Pilsen neighborhood that boasts the famous LZ Fabrics (shopping!) and the National Museum of Mexican Art, the largest Mexican cultural center & museum in the United States.
If you'd rather spend the day at in-depth learning, USITT also offers several Professional Development Workshops on March 19, including Firearm Safety for the Stage, Sign Painting and Pro Sound Principals and Practice. For more information on the PDWs, click here.