News From
Sustaining Members
Focal Press: Upgrade to Sustaining
Focal Press, which has been a member of USITT for more than 15 years, has upgraded its level of support to that of a Sustaining member.
The company has been a leading publisher of media technology books for over 60 years, providing essential resources for professionals and students in many areas including: film and digital video production, photography, digital imaging, graphics, animation and new media, broadcast and media distribution technologies, music recording and production, mass communications, and theatre technology.
Focal Press will be an exhibitor at the 2013 Stage Expo. For more information, visit www.focalpress.com.
Alcons Audio USA: Enhances Jazz Experience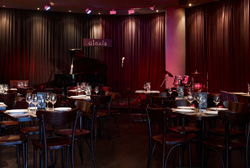 Established in 1995, Alexis Group has five premises in Kuala Lumpur, Malaysia. There are a variety of elements that make the Alexis experience so special: stylish interiors, warm hospitality, delicious food, and the finest jazz music in town. Alcons Audio has added to the experience with the installation of a system at Alexis Ampang.
The location is noted for its acclaimed proram of jazz performances showcasing internationally renowned musicians and local legends.
For more information visit: www.alconsaudio.com and www.alexis.com.my
TMB: Provide System for Empire State LED Show
In November, with the assistance of Grammy Award-winning artist Alicia Keys, the Empire State Building (ESB) launched its new LED lighting system.  Designed by world renowned designer Marc Brickman, the landmark building's first video LED light show was driven by Hippotizer media servers controlled by GrandMA2 which are exclusively distributed by TMB in the Americas.
For those in the region with a clear view of the ESB, the show was broadcast live over Clear Channel's New York radio stations. See the spectacular video here. See more about the ESB LED installation here. Read more about Hippotizer at www.tmb.com/products/hippotizer.
L-ACOUSTICS: Sound System Aids Church Service Quality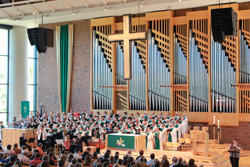 L-ACOUSTICS, certified provider of Audio Video Electronics (AVE) recently installed a KIVA loudspeaker system at St. Andrews Lutheran Church in Mahtomedi, Minnesota.
The system improved the intelligibility in the 1,200-seat sanctuary. The church also includes an 80-member choir, a chamber group, and a huge pipe organ in the services.
Nemetschek Vectorworks: Releases Spanish Product Line
Nemetschek Vectorworks, Inc., a provider of CAD and Building Information Modeling (BIM) software solutions, recently released a Spanish-language version of the Vectorworks 2013 line of design software including: Vectorworks Designer, Architect, Landmark, Spotlight, Fundamentals, and Renderworks.
The Spanish-language version will be available throughout the Americas, the Caribbean and Spain. All Spanish- and Portuguese-language customers have the option to become members of the subscription program Vectorworks Service Select, which includes access to Vectorworks Cloud Services. Language options vary by country. Visit www.vectorworks.net/espanol for Spanish-language brochures, FAQs, videos and other materials and www.vectorworks.net/2013 to learn more about Vectorworks 2013 software. Go to www.vectorworks.net/international to find a local distributor.
Stagecraft Institute of Las Vegas: Foam Arts
A Foam Arts class at Stagecraft Institute of Las Vegas June 24 to 28 will challenge students by addressing carving, finishes, textures, and color with master Dan Williams and a variety of industry partners including Rosco, Rosebrand, and Smooth-on.
The class will be based on carving of the gargoyles of Notre Dame. It will include hands-on experimentation with three-dimensional construction process techniques and applications for carving and treating expanded polystyrene (white bead) foam from the block to the finished carving.