News & Notices
Announcements
Rockwell Tour Session
Anyone planning to attend the Rockwell Automation, Allen-Bradley Tour as part of the 2013 Annual Conference needs to sign up in advance to be part of the group.
Rockwell Automation, Allen-Bradley is one of the largest manufacturers of industrial automation controls and equipment in the world. Participants will get an overview presentation and tour the company's high voltage testing, reliability, advance technology, and chemical labs. They also will be given a history and tour of the famous clock tower.
In addition to the required pre-registration, participants must show a picture ID to be admitted.
USITT will provide bus transportation to and from the Delta Center. Only 50 attendees will be allowed. The bus will leave the convention center promptly at 1 p.m. on Wednesday, March 20 and return at 4:15 p.m.
To sign up, send name, address, e-mail, and phone number to monica@usitt.org. Louis Bradfield is chairing this session sponsored by the Engineering Commission.
PLASA Announces Election Results
The results of PLASA's month-long elections for positions on its European and North American regional boards and its central governing body were recently announced.
On the European Regional Board, Martin Hawthorn of Hawthorn's was re-elected to a second term as treasurer and Mark Surtees of Outback Rigging successfully retained his position as production services representative. Noreen O'Riordan of Entec Sound and Light became the new rental company representative, while Steve Macluskie of the Royal Conservatoire of Scotland will take on a second term as the organizational representative.
Five positions were up for election on the North American Regional Board. Scott Hoyt of Heartland Scenic Studio was elected treasurer, David Schraffenberger of Production Advantage and Tracey Cosgrove of Rosco Laboratories took the dealer and manufacturer representative positions respectively. Jules Lauve of Theatre Projects Consultants was re-elected for a second term as the professional services representative . The final place on the board is occupied by Marc Stephens of MPS Studios Dallas who will represent rental companies.
The governing body elections focused on filling a single at-large position. John McGraw successfully retained his position.
All the candidates will begin three-year positions on January 1.
Ballet Exhibition to Travel from New Jersey to North Carolina
The Enchanted Wanderers: The Unknown Pages of the History of Ballet will move to the University of North Carolina – Ashville after its showing at the Museum of Russian Art (MORA) in Jersey City, New Jersey. The exhibit continues at MORA through January 14. It will move to UNC-Ashville for a showing from February 12 to 26 in the Malcolm E. Blowers Gallery in Ramsey Library.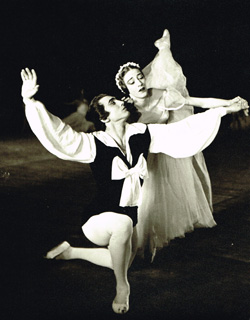 Originally shown at the Bakhrushin Central State Theatre Museum in Moscow, Russia the exhibit was initiated through a collaboration between the Bakhrushin Central State Theatre Museum, MORA, UNC-Asheville, and Grabbe Inc. New York. It highlights the life of Dame Sonia Arova and Oleg Briansky, legendary ballet dancers and choreographers of the second half of the 20th century, who made significant contributions to world culture.
It includes dancers and choreographers who lived and worked in America and made significant contribution to the Western Culture: Rudolf Nureyev, Mikhail Baryshnikov, Tamara Tumanova, and George Balanchine. It reveals remarkable archives of the history of ballet through photos, sketches, costumes, newspaper publications, original letters, and documents.
The exhibition includes rare photographs from the collection of the Bakhruchin Central State Theatre Museum and personal archives of Briansky, Igor Roussanoff, and Thor Sutowsky capturing rehearsals and performances of such classical pieces as Swan Lake, Giselle, and La Sylphide. The personal diary of Prima Ballerina Sonia Arova is also part of the exhibit with entries starting in 1942.
A video on the exhibit it available.
Paper and Pencil Exams Offered at USITT 2013 in Milwaukee
The ETCP Examinations will be given at the USITT Annual Conference & Stage Expo in Milwaukee, Wisconsin. All three ETCP examinations will be given in one session the morning of March 22.
Candidates who wish to take more than one exam should contact ETCP. Members and employees of USITT members receive a $100 discount on examination fees. Interested applicants must submit their application, along with supporting materials and fee, to the ETCP office no later than March 1, 2013.
Candidate information, including eligibility requirements and applications, is available on the ETCP website. To have the information mailed, contact Meredith Moseley-Bennett, ETCP certification manager, at 212-244-1505 or etcp@plasa.org.
Can't make it to USITT? ETCP examinations are given daily at over 190 computer based testing centers across the United States and Canada.
DMX512-A, Other Standards Up for Review
ANSI E1.11-2008, Entertainment Technology -- USITT DMX512-A -- Asynchronous Serial Digital Data Transmission Standard for Controlling Lighting Equipment and Accessories is one of several standards being reviewed. It is available through January 7.
E1.11 is a lighting control protocol that is now well over 20 years old counting from its original version. It is up for reaffirmation with no changes and can be reviewed at the PLASA documents site.
Other standards up for review and the deadlines for their reviews are:
ANSI E1.14 - 2001 (R201x), Entertainment Technology -- Recommendations for Inclusions in Fog Equipment Manuals, January 7.
ANSI E1.19 - 2009, Recommended Practice for the Use of Class A Ground-Fault Circuit Interrupters (GFCIs) Intended for Personnel Protection in the Entertainment Industry, January 14;
BSR E1.45 - 201x, Unidirectional Transport of IEEE 802 data frames over ANSI E1.11 (DMX512-A), January 14;
ANSI E1.35 - 2007, Standard for Lens Quality Measurements for Pattern Projecting Luminaires Intended for Entertainment Use, January 21;
BSR E1.6-2 - 201x, Entertainment Technology — Design, Inspection, and Maintenance of Electric Chain Hoists for the Entertainment Industry, January 28; and
BSR E1.6-4 - 201x, Portable Control of Fixed-Speed Electric Chain Hoists in the Entertainment Industry, January 28.
All standards and revisions are available for review on the PLASA documents site.
Cost-Saving New Year's Resolution
Here's a New Year's resolution that's easy to keep: take a look at shipping invoices and check savings for shipping costs. If there aren't discounts, then money is going down the drain!
On December 31, UPS implemented rate increases for express and ground shipping. FedEx rate increases go into effect January 7. Offset shipping costs by taking advantage of USITT Freight Savings Plan discounts. Up to 27 percent can be saved on select FedEx Express services (includes a 5 percent electronic shipping discount) and up to 15 percent on select FedEx Ground services. Call Siriani at 1-800-554-0005 for a comparison quote or enroll online at www.siriani.com/usittfsp.