Conference & Stage Expo
2013 Stage Expo Already Breaking Records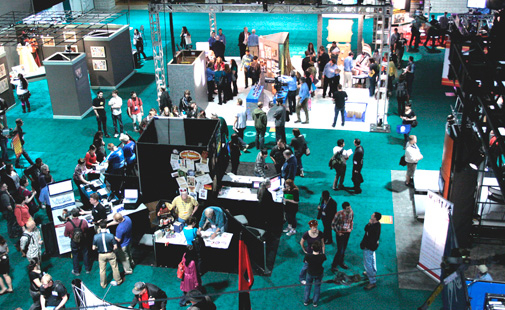 Stage Expo 2013 is on track to be bigger and better than ever, with even more exhibitors and excitement.
Sales of booths and tables have already surpassed the 30,000 square feet of exhibit space sold for Stage Expo 2012 in Long Beach, California, so Stage Expo 2013 can already boast even more on the floor of the Delta Center in Milwaukee, Wisconsin, March 21 to 23.
With four months until the doors open, many more companies are expected to join in. Last year's show drew 197 exhibitors and set an attendance record of over 5,000 people from every segment of the entertainment industry, all 50 states, and 26 countries.
To make room for more, USITT has reconfigured the Stage Expo space, so there are still choice spots available! Besides industry giants such as ETC and Wenger, new companies include Clear Wing, Studio Gear, Adaptive Technologies, and Dazian. Look for even flashier exhibits from returning companies like Chauvet, which will showcase new LED fixtures specifically geared for theatre. Stage Expo 2013 is expected to feature 25 percent more audio and 15 percent more scenic providers than last year. Check out USITT's online map of Stage Expo and list of current exhibitors to see who is on board so far.
Stage Expo 2013 also offers venues for exhibitors including Innovation Gallery, a 20- by 20-foot space for companies to display new products; Innovation Stage, starring 20-minute demos by participating companies; and Light Lab, focusing on new technologies and uses from lighting designers and manufacturers. The Annual Conference also offers opportunities to sponsor workshops, keynote addresses, and even coffee hours to spread goodwill among industry insiders.
As Stage Expo grows, so does its audience. It attracts a wide range of designers, managers, owners, and academics looking for products, services, and ideas for staging world-class productions. Registration to date is already 5 percent over last year's record-breaking show. More of the directors, production managers and theatre consultants that guide the industry will be in Milwaukee. Will you??
For more information on exhibits or sponsorships, contact Ron Procopio at 800-938-7488, ext. 107, or ron@usitt.org. To learn more about the Annual Conference & Stage Expo, visit www.usitt.org/2013.