Conference & Stage Expo
Station House Opera to Star in Session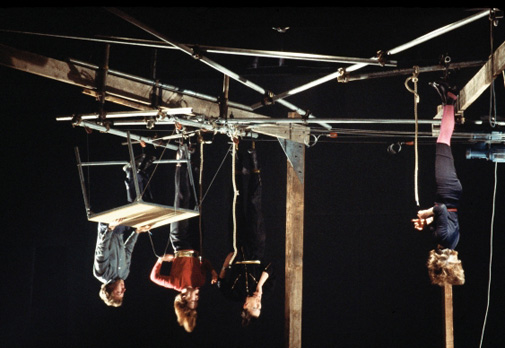 Julian Maynard-Smith, artistic director of the London based Station House Opera will present a special session as part of the 2013 Annual Conference & Stage Expo.
His presentation of the scenographically-innovative company -- whose work merges performance art, studio arts, digital arts, and architecture -- is being coordinated by the International Committee. The session is scheduled for 2 p.m. Friday, March 22.
Station House Opera is renowned for its spectacular, site-specific productions created and performed all over the world – works that embrace the theatrical scale and magnitude of opera, if not the expected musical form. Maynard-Smith humbly proffers that, "Opera is a perfectly good Italian word for work, which is what we do." Indeed the range of works that Station House Opera has produced since its beginning in 1980 is astonishing.
The intersection and exploration of space, materials and performer are at the heart of every Station House Opera production. Early in its artistic journey, the company established a non-illusionistic, architecturally sculptural approach to space that supported its post-dramatic style of theatre in a very honest, immediate, and often comedic way. Performers and furniture were hoisted into the air, sometimes upside down, playing off one another in ways that moved the meaning of a piece beyond plot and character and into a wholly unique theatrical world.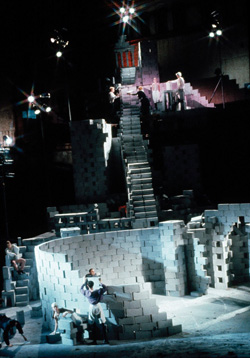 Pieces that are currently underway explore themes such as backwards action, thinking and emotion, and performance of thought, which is described as "making aspects of perception and thought sculptural; a kind of tangible mental architecture."  Recent efforts have returned to more intimate settings but achieve a kind of theatrical cyber scale through the use of technology. Characterized as "telematic" theatre, Maynard-Smith's new works employ internet to transmit images and sound between two or more sites to create a shared global performance event.
This presentation of Station House Opera's hybrid theatre of the real, the virtual, the intellectual and the imaginative is sure to fascinate and inform.  For more information on Julian Maynard-Smith and Station House Opera, including the video of one of their recent site-specific works, Dominoes, visit www.stationhouseopera.com or vimeo.com/16848143#at=0.