News & Notices
Pilbrow to Receive Golden Pen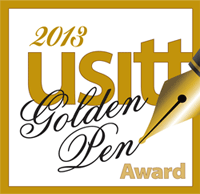 Richard Pilbrow, described by one reviewer as "a treasure of the profession" who has worked with "the seminal designers of his time," will receive the USITT Golden Pen award in 2013 for A Theatre Project.
Mr. Pilbrow will receive the award at the USITT Annual Conference & Stage Expo in Milwaukee, Wisconsin in March. Following a USITT tradition, he will be presented with a gold fountain pen even though he writes and works in the most modern environments.
The Golden Pen winner is selected based on nominations by the membership, recommended by a subcommittee of USITT's Publications Committee after rigorous review and further votes by the full committee and the Board of Directors. Committee members found Mr. Pilbrow's work to be both entertaining and informative. One noted, "This is a book to savor as it provides not only a lovely memoir for arguably one of our most innovative theatre practitioners but also for a book that is candid--the warts with the lovely prose of life. Not only does this chronicle a legendary career but it articulates the innovation and risk required to create a business that can be sustained and globalized to meet a niche market."
A Theatre Project chronicles Mr. Pilbrow's career with lavish illustrations. In his review in TD&T, Martin Moore called it "inspirational."
The Golden Pen is the latest in a long string of honors for Mr. Pilbrow who is the founder of Theatre Projects and an internationally-recognized lighting designer as well as a theatre, film, and television producer. A Fellow of USITT, he received the Knights of Illumination Lifetime Recognition Award in 2011.
USITT will present the award as part of its 53rd Annual Conference & Stage Expo March 20 to 23.
A special session will highlight Mr. Pilbrow's work and provide him an opportunity to enlarge upon his views of design and technology. He also will be featured in a book-signing event at Stage Expo where A Theatre Project will be available.
The USITT Golden Pen award is given to recognize outstanding books in the field of design and production in the performing arts. Winning works are significant in the field and outstanding examples of their genre. Past recipients have included Max Keller for Light Fantastic and Mary C. Henderson for Meilziner: Master of Modern Stage Design.
"We are delighted to add Mr. Pilbrow to the esteemed list of writers who have shaped our understanding of life in the theatre" said Executive Director David Grindle. "He will, as always, be an outstanding part of the 2013 Conference."