News & Notices
William Browning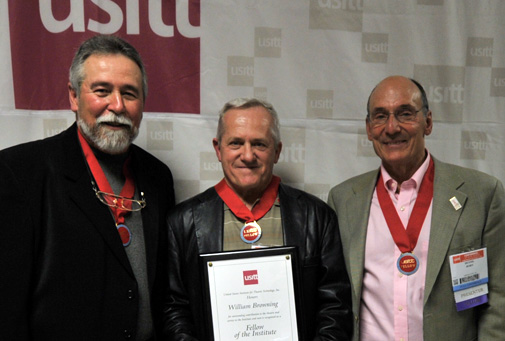 Newly inducted USITT Fellow William Browning was introduced by Dennis Dorn at the 2012 Annual Conference & Stage Expo in Long Beach, California.
Our next Fellow has been a dear personal friend for over 30 years. He is recognized nationally as an esteemed educator and theatre professional. We also share a bond as Wisconsinites, current and former.
Our new Fellow began his USITT association approximately 35 years ago. From the very start, he was a Conference regular. By the mid-1980s, he was a perennial Conference panelist and presenter. While in Wisconsin, he was an active member of the Midwest Regional Section and served as a member of the outstanding 1990 Milwaukee Annual Conference & Stage Expo Committee.
From that auspicious start, our new Fellow continues his service to USITT. He is a strong Tech Expo supporter and has been an Expo committee member for nearly 30 years. In addition, he serves as an associate editor for TD&T, and at present is also serving his second term on the USITT Board of Directors.
Following completion of his MFA degree from a major Midwestern university, our new Fellow bounced around for a few years. Before long, he was recruited for an academic appointment which he has now held for 32 years, the last 18 as a full professor. During that time he has mentored scores of graduate students, designed lighting and/or scenery for over 140 productions, evolved into a computer graphics guru, and participated in scholarly activities including delivering papers at international conferences and authoring journal articles.
With all this dancing around, it is time to reveal that I am speaking about William "Bill" Browning, head of the University of Delaware's renowned PTTP technical program. He has headed the program for its entire 33-year existence, first in Milwaukee, and 10 years later at the University of Delaware.
Long-time Conference attendees will remember Bill's commitment to the Conference computer lab. Bill was recruited to join the Annual Conference Committee when it was originally formed in 1997 and served that committee as Computer Resources Coordinator through the 2005 Annual Conference & Stage Expo in Toronto. Over the years, Bill's computer savvy grew into a resource used by many of us for a variety of tasks including simple communications, panel prep, and a significant number of group teaching activities.
Most recently, Bill has joined the Archives Committee and has assumed the task of coordinating the Institute's photo collection. Always a daunting task, with the advent of the digital age, the number of images has grown exponentially making the task even more formidable. But, if anyone can do it, Bill is that person.
Please welcome Bill Browning to the stage as our newest member of the USITT Fellows. His extraordinary contributions and leadership make him a distinguished addition to our group of honorees.
Mr. Browning was inducted as a Fellow along with Lea Asbell-Swanger, Rodney Kaiser, Michael Ramsaur, and Mark Shanda.