News From David Grindle, USITT Executive Director
Looking Back at Long Beach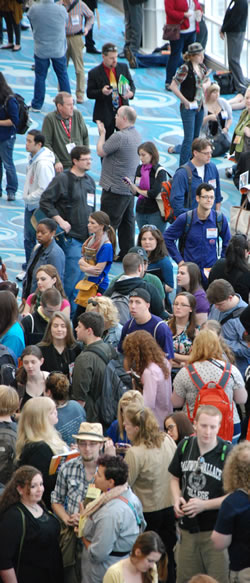 Five thousand -- that's a lot of people.
We had over 5,000 people attend the Conference & Stage Expo in Long Beach. That outreach led to more people seeing the amazing membership of USITT at its best.
Session quality was among the best people had seen, and they were telling us about it. There were more exhibitors than ever before. We had Sound Lab, a phenomenal experience just to walk in the room, much less understand it.
Tony Walton, Han Peter Kuhn, Todd Debrencini, and many others lent their expertise to sessions that reached not only students but professionals in all areas at all levels of their careers.
So where does that leave us, the membership? It leaves us with the duty of sharing the exciting growth of the Institute with others and encouraging them to join. Together we can grow the Institute to something formidable and make greater and greater impacts upon the industry at all levels.
But that's the job of the National Office, right? Yes and no. Yes, we have the materials, we can send letters to non-members who attended the conference, and we can do all of the things that membership development says to do to grow our numbers. But there is something that only individuals can do, and that is share personal stories.
When members tell others about the interactions, about the rejuvenation they get from networking with their peers, when we share what we've learned and that we learned it through USITT, that's the best marketing we could ever ask for. With members sharing their experiences and encouraging people to join and maintain their membership, we will remain what has made USITT so fabulous, an organization that focuses on the personal interactions of the members.
During the Friday evening events, I sat with a group of students from Alabama State University. Tai, a young stage manager, began to share the joy she found in stage management. The excitement of bringing things together, coordinating the work of many in to a whole, the happiness of solving problems with a team all bubbled from her in a way that reminded me of how I felt as a young stage manager. Her excitement and enthusiasm for the career and art form I loved renewed my vigor for the art of technical theatre and management. Those kinds of opportunities are the things we need to share with others through membership.
USITT is moving forward. The Rigging Safety Initiative, review panels influencing the national education standards for technical theatre, Elite Training Las Vegas, Early Career Members, the Costume Poster Session Archives, and so much more have happened in the past two years. Share the excitement and help grow the membership. Wouldn't it be great if 5,000 was our total number of members rather than just our conference attendance?
Together, sharing the news and encouraging one another, we can make it happen.