News & Notices
Rodney Kaiser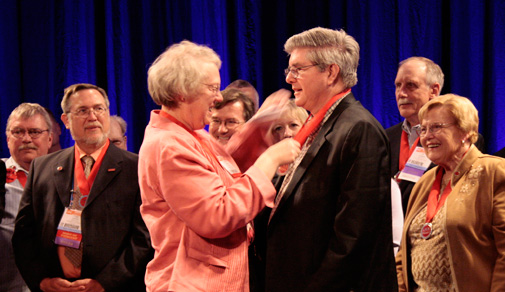 Rodney Kaiser was introduced by Richard Devin with additional remarks from Joel E. Rubin, Ph.D., read by Mr. Kaiser's wife, Fellow Christine Kaiser.
It is my great pleasure to bestow the USITT Fellows ribbon on Rodney Kaiser.
Rodney has been an active member of the Institute for over 30 years and has served the entertainment industry with distinction. As a theatre professional, he worked with Kliegl Brothers, Inc. from 1967 to 1970, followed by employment with Hoffend and Sons, Inc. from 1970 to 1978 in stage rigging and lighting sales and installation, and has been with J.R. Clancy for 33 years, from 1978 to the present time. He holds two patents in the stage rigging field, one for a counterweight assisted winch and one for an arbor guide shoe assembly. He continues to serve his profession as special projects manager of J.R. Clancy, Inc.
Rod has been a USITT member and Conference exhibitor/attendee for more than 30 years. He was an early member of the USITT Rigging and Stage Machinery Standards group at the beginning of the efforts to write standards for manual counterweight rigging. He remained with the standards efforts from the beginning, continuing as the work of the committee transferred to ESTA, when it became ANSI-accredited, and as a task group member of the Manual Counterweight Rigging standards until the standard was adopted in 2009.
He served on the Fire Safety Curtains task group from 2002 until it became an ANSI standard in 2009. He also served on the Powered Rigging Systems task group. Rodney also served as USITT's Technical Standards Committee Liaison for more than 10 years.
Other USITT service includes several years on the USITT Membership Committee; as a Young Designers & Technicians review panel member; and as an instrumental force in assisting the USITT office move from New York City to Syracuse, and the transfer of USITT archive materials from Kansas City to Syracuse.
Essential service was provided to the USITT Finance Committee members and Executive Committee members for many years as sounding board, host, and chief cook and bottle washer for many meetings held in Syracuse. He has also served as a Conference presenter/panelist.
An expert in stage rigging fundamentals, mechanics, manufacturing, and operation, Rodney generously has shared and continues to share his knowledge with end users, architects, and consultants. Mr. Kaiser attended the mechanical engineering program at Clarkson College of Technology and received a BA from the University of Rochester.
Finally, Rod has a unique distinction in that he is a member of the only husband and wife team of USITT Fellows.
From Joel E. Rubin, Ph.D., and read by Christine Kaiser
Rodney's long membership and ongoing activities in USITT started with his days as my associate at Kleigl Bros Lighting in the mid-1960s, and he has continued his active participation ever since. When Rodney moved from Kleigl to J.R. Clancy, the lighting industry's loss was the theatre rigging industry's gain.
Rodney became the expert's expert at Clancy, in my mind the ultimate resource behind questions that my firm as consultant posed to him as to the best method or procedure to ensure suitability and safety. Anyone who works with Rodney knows that his answers to rigging solutions are customer-motivated, not commercial; that alone seems to me to make Rodney quite unique.
I sense that, as Clancy has grown, Rodney's work has tended to become more internal, and he has had less opportunity to continue his many years of providing sage advice directly to USITT constituents. I firmly believe that Rodney as Fellow of the Institute will be able to much enhance his already ongoing and continuing contributions to USITT and to the theatre industry.
Mr. Kaiser was inducted as a Fellow along with Lea Asbell-Swanger, William Browning, Michael Ramsaur, and Mark Shanda.