News From
Sustaining Members
TC Group Americas, Inc.: Welcome
We welcome new Sustaining member TC Group Americas, Inc.
The company, based in Kitchener, Ontario, Canada, includes several component areas including TC Electronics, TC-Helicon, Tannoy, Dynaudio Acoustics, LAB.gruppen, Linn, and Audica.
The website is under construction, but the url is www.tcgroup-americas.com and contact is Jennifer Kavanagh at jennk@tcg-americas.com.
Eilon Engineering Weighing Systems Ltd.: Appreciate Membership Upgrade
We appreciate the additional support to USITT which Eilon Engineering Weighing Systems Ltd. is providing by upgrading its membership to that of a Sustaining member. The company is best known for its Ron StageMaster wireless and wired real-time load monitoring systems, with up to several hundred load cells overlaid on the show plan and shown on one laptop's screen, enabling load monitoring and overload prevention.
To find out more about the company, visit www.eilon-engineering.com
iWeiss Theatrical Solutions: Belton Joins Staff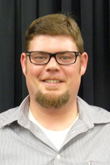 iWeiss Theatrical Solutions announced the addition of Nicholas Belton as project manager. Mr. Belton comes to iWeiss from Royal Caribbean International where, as stage and production manager, he led the day-to-day operations of the cruise ships' state-of-the-art performance venues. His involvement in launching new theatre venues and working with contactors and vendors will prove especially valuable in his new position.
Mr. Belton earned a bachelor's degree in theater arts with an emphasis in design and stage management from Muhlenberg College in Allentown, Pennyslvania. He can be reached at nicholasb@iweiss.com.
SILV: Program Continues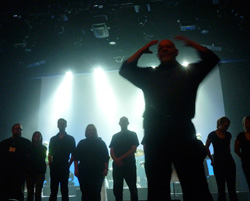 Students in the 2012 season of Stagecraft Institute of Las Vegas will be the first legacy class as the program pushes forward after the loss of founder and master mentor Don Childs. Above all else, Don exemplified the belief of his mentor, Ladislav Vychodil, that "integrity is all we have; an artist without integrity has nothing." SILV will continue to pursue his mission to carry on the now generations-old tradition of training by sharing experience with the next wave of technicians. It's all about the experience!
Staging Concepts: Equipment Adds Thousands of Seats to NCAA Tournament
Thanks to the temporary seating configuration constructed of custom seating riser equipment from Staging Concepts, 17,000 fans were front and center during the NCAA Final Four at the Mercedes Benz Superdome in New Orleans. This seating configuration involved a major dramatic move of the basketball court from the end zone, where it was in 2003 when New Orleans last hosted the Final Four, to the middle of the arena, giving tens of thousands of fans - primarily students - a chance to be near the action.