Conference & Stage Expo
It Doesn't Matter How It's Spelled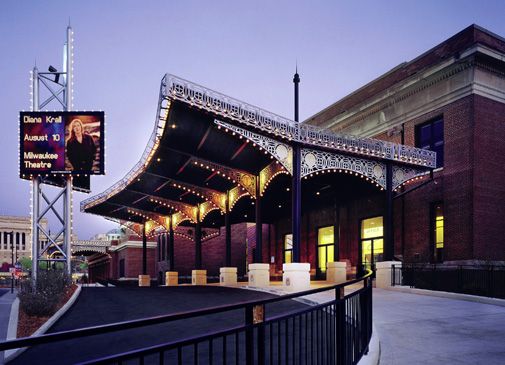 Milliwocki, Milwacky, Milwaukie, Milwaukee - the word "Milwaukee" may come from the Potawatomi language "minwaking," or Ojibwe language "ominowakiing,"
"Gathering place by the water."
No matter how it has been spelled or its origin, in March 2013 Milwaukee will be synonymous with USITT and stand for all the experiences and knowledge gained at each Annual Conference & Stage Expo.
Many significant additions and changes have occurred in the city since the Institute's last visit in 1990. Arts programming continues to grow and new facilities have been created to house the events. New since 1990 is the Broadway Theatre Center, home to the Skylight Theatre, Milwaukee Chamber Theatre, and Renaissance Theatre Works.
The Calatrava wing of the Milwaukee Art Museum has become an iconic image for the growth of imagination in the city, while the Milwaukee Youth Arts Center (MYAC) fosters youth growth in the performing arts through the programs of First Stage Milwaukee, Milwaukee Youth Symphony, Milwaukee Children's Chorus, Danceworks, Festival City Symphony, and African American Children's Theater.
The Marcus Center for the Performing Arts -- home to the Milwaukee Symphony Orchestra, Milwaukee Ballet, The Florentine Opera, First Stage Milwaukee, and frequent Broadway tours -- has received recent significant upgrades keeping it fresh, inviting, and capable of meeting contemporary requirements for live performance.
Comprehensive popular entertainment programming is maintained at the Riverside Theatre, the Pabst Theatre, the historic Turner Hall, and during the summer, at the Milwaukee Summerfest grounds. Under new artistic leadership, the Milwaukee Repertory Theatre produces diverse works in four venues each year. Not surprisingly, Milwaukee is widely recognized for the amount, quality, and diversity of its performing arts scene and its support of non-profit arts organizations.
While retaining its strong European connections, Milwaukee also welcomes African-Americans, Mexican-Americans, southeast Asians, and others to create a rich cultural diversity in the city.
The German tradition of Gemütlichkeit describes an environment that purveys a cheerful mood and peace of mind, with connotation of a notion of belonging and social acceptance, of being cozy and unhurried.
USITT visitors will leave Milwaukee with fond memories of the city and of their colleagues that live and work in it. Gemütlichkeit is alive and well here!