News & Notices
Five New Fellows Announced at Long Beach Conference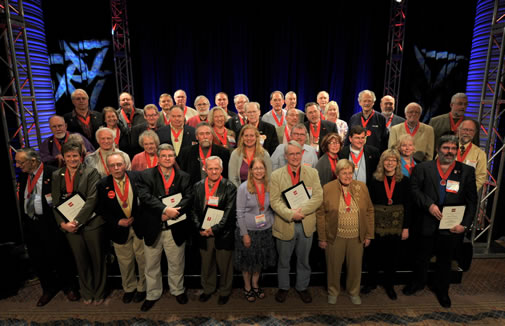 The general introduction to all USITT's new Fellows and specifically Lea Asbell-Swanger was given by Richard Stephens
Fellow of the Institute is the honorary designation bestowed for life upon those members deemed to have made a truly outstanding contribution to both the profession of theatre and the work of the Institute.
This criteria, coupled with the fact that candidates are voted upon by the current body of Fellows, constitutes a recognition by one's peers of the highest professional honor. Tonight's inductees continue this tradition, as all are outstanding examples of the highest standards in professional accomplishments and Institute service, and we are very proud to welcome them to our ranks. We should also mention that the names of new Fellows are kept confidential until announced here this evening, adding considerably to the drama and suspense of this induction ceremony.
It is my honor to present the first of five new Fellows to be welcomed and recognized by the Institute. We will attempt brevity, so here are just the highlights of a very illustrious career.