News From
Around the Institute
Where's the Executive Director?
You never know who you might find at USITT's Stage Expo. In 2011, it was the Easter Bunny. In 2012, there were several creatures with super powers wandering around. Can you tell which of these is the creature and which is USITT's Executive Director? Free swag for the first correct response to barbara@usitt.org.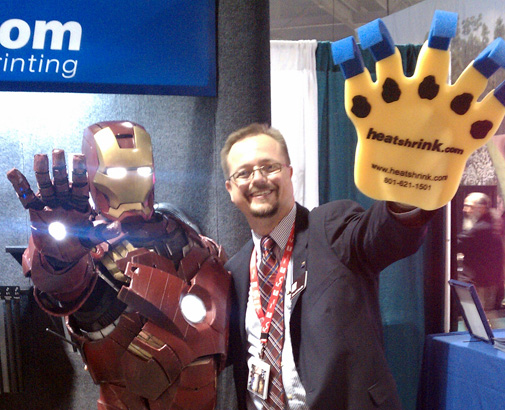 Offer Discounts on NAAFED Performing Rigging Workshop
The North American Association of Flying Effects Directors (NAAFED) will hold its 2012 Performer Rigging Workshop from May 22 to 25 at Northern Illinois University in DeKalb, Illinois.
USITT members, ETCP Certified Riggers, IATSE, CITT, EdTA, AEA, PLASA members, and students receive a $50 discount on the $600 workshop costs. Students are allowed to use both discounts.
The workshop is designed for all ages and skill levels. Practical application will follow lecture-based presentations to provide attendees with the opportunity to practice the theories learned. Participants will be exposed to the basics of good theatrical rigging practices, as well as hands-on exposure to a wide variety
of performer rigging systems. By the end of this workshop, a participant who arrived with basic theatrical knowledge should be able to recognize unsafe rigging conditions, converse fluently with a flying effects rigger, efficiently assist with the installation of a flying effects system, and operate a flying effects system for a production.
Instructor Tracy Nunn ally is an ETCP Certified Rigger - Arena & Theatre (one of only 35 ETCP recognized trainers), head of the design and technology program at the NIU School of Theatre and Dance, and president of Hall Associates Flying Effects.
For more information, e-mail naafed@flyingfx.com. call 888-359-4255 or visit www.naafed.com.
Costume Symposium Features Puppets
USITT's 2012 Costume Symposium will be in West Lafayette, Indiana the first weekend in August, featuring a Puppet Boot Camp. Learn to make and manipulate four different types of puppets in this intense session lead by Joel Ebarb.
Applications are now available here »
LA Theatre Tour
We have a glowing report, and photos, from the LA Theatre tour held before the 2012 Annual Conference. Randy Earle noted, "Our tour, arranged by Bob Scales, was absolutely fantastic. We visited the Million Dollar, Palace, Orpheum, and Los Angeles theatres and had in-depth tours that permitted us to crawl around spaces the public usually cannot access.
"I hope this will be a model for future conferences in cities where such wealth of historic theatre architecture exists. Bob is to be congratulated for a very special contribution to the Conference!"
Note: The lobby with all the wrought iron work and palms is not a theatre; it's the Bradbury Building, a "must see" LA landmark on the tour.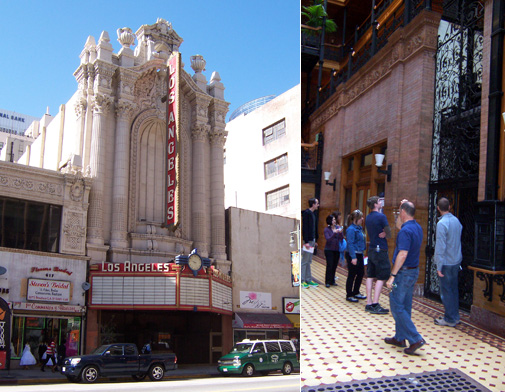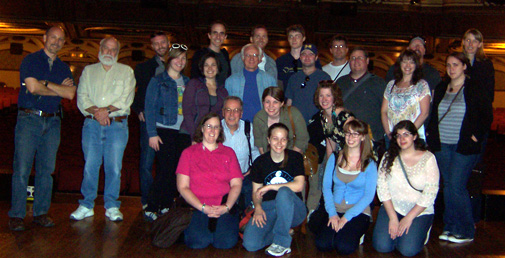 Clearwing Productions Axient Certified
Clearwing Productions is now a certified dealer for the Axient System, the revolutionary wireless system recently introduced from Shure. The certification allows Clearwing to sell and install Axient as well as complete on-site trainings for customers. Nick Dressler and Bryan Baumgardner both completed the Axient Dealer Certification Training program in Chicago, Illinois, on March 15.
Axient employs several breakthrough technologies that work together to deliver interference-free audio in today's hostile RF spectrum environment.