News & Notices
Michael Ramsaur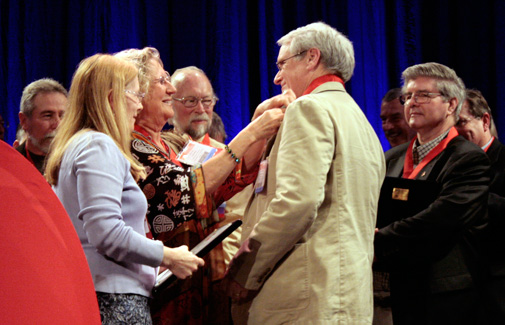 Michael Ramsaur was introduced as a Fellow by Cindy Limauro.
This person is highly respected as an international educator and lighting designer who has contributed extensively to USITT and OISTAT.
His contributions to the theatre/performing arts include:
Professor at Stanford University serving as director of production and formerly (1989-2001) as chair of the department of drama
Memberships in

United Scenic Artists
International Alliance of Theatrical Stage Employees
Illuminating Engineering Society of North America
International Association of Lighting Designers
He has had a 40-year career in theatre including serving as lighting designer for many theatre companies in the San Francisco Bay area, including Peninsula Civic Light Opera where he is the resident lighting designer.
Examples of his designs have been displayed at two USITT Design Expositions, a theatre design exhibit at the Trinton Museum of Art in Santa Clara, and theatrical design exhibitions in Prague and Shanghai.
He has been awarded Outstanding Lighting Design awards from the San Francisco Bay Area Critics Association, Dean Goodman Ward, and Drama Logue Award. His articles on lighting techniques have been published in three countries, and he has created a computerized software program to aid lighting designers.
He is a longtime member of USITT and has served on the Executive Committee and as Chair of the Northern California Regional Section. He is a member of the Lighting Design & Technology Commission, the Education Commission, and the International Activities Committee. He currently serves on the OISTAT Executive Committee, as the representative of USITT, the US OISTAT Centre.
He recently completed a term of office as the President of OISTAT (in 2009) and previously served for many years as Head of the OISTAT Education Commission.
He is one of the founding organizers of Scenofest, the educational component of the Prague Quadrennial. Under his leadership it has grown enormously and is a highlight of the PQ experience.
He recently was instrumental in organizing an International Lighting Design Symposium in China. He has been a strong advocate of theatre, particularly working to bring attention to under-represented countries of the international community.
Mr. Ramsaur was inducted as a Fellow along with Lea Asbell-Swanger, William Browning, Rodney Kaiser, and Mark Shanda.