Conference & Stage Expo
Farewell Long Beach, Hello Milwaukee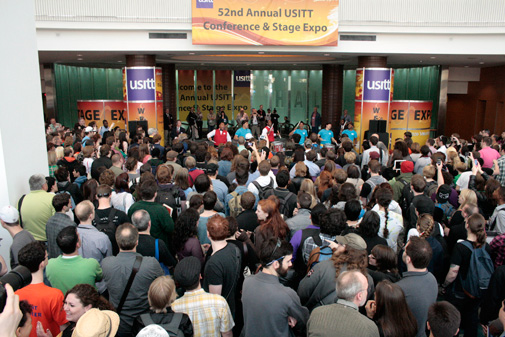 We broke all the records in Long Beach with more exhibitors (204) in more net square feet of exhibit space (30,950) than ever before. Preliminary attendance figures announced at the Conference included 5,048 attendees, a whopping 20 percent increase from 2011.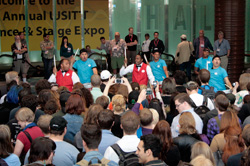 The large crowd which gathered to await the grand opening of Stage Expo was thrilled by a high-energy drumline. Currently performing at the Happiest Place on Earth in the exciting new "Mickey's Soundsational Parade!" six drummers wowed the crowd with their tightly synchronized performance. Thanks to our friends at Disneyland for providing this year's entertainment. If you missed it, you can see it on YouTube here.
After a rousing introduction by one of the drummers, VP-Conferences Dave Will cut the USITT gaff tape, and the crowd streamed into the exhibit halls to gather technical information and collect swag. Exhibitors were extremely happy with the traffic at Stage Expo, in part due to the more than 1,300 people who visited Stage Expo on VIP passes.
Exhibitors were invited to reserve Milwaukee 2013 booth space during the priority space selection held in Long Beach on the last day of Stage Expo 2012. More than 80 booth exhibitors booked over 20,000 square feet of space during the priority space selection. Two-thirds of the available booth space has already been reserved for next year's show, so Stage Expo 2013 is well on its way to filling four large exhibit halls in Milwaukee's Frontier Airlines Center.
Booth space selection will continue until all available booth spaces are sold. Priority space selection for table spaces will be conducted later in the year.  Anyone who would like to exhibit at Stage Expo 2013 in Milwaukee should contact hpwillard@aol.com for more information.