News From Joe Aldridge, USITT President
Honoring Award-winners and Other Memorable Events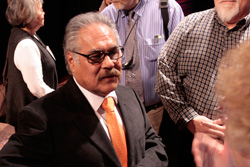 A month has passed since we all met in Long Beach at what has turned out to be a record-setting Annual Conference. More exhibitors, more attendees, more sessions, and, above all, more fun!
One of the distinct pleasures for me since taking the office of President of USITT has been being able to read the names of the many award winning students who have been recognized by the Institute. Also, reading the names of my peers and their numerous accomplishments has given me immense pleasure. You have no idea how much work went in to making certain that Bernie Works would be attending the closing night festivities last year in Charlotte. He had been selected to receive the Joel E. Rubin Founder's Award. Bernie was going to skip the event and take his wife to a quiet dinner. Little did he know that his wife had assembled the entire family secretly to witness him being honored by the Institute.
That very same evening, I was able to surprise a very dear friend of mine, Rick Stephens, when he also received the Joel E. Rubin Founder's Award. In a small way, it was poetic justice since Rick had been the one to read my induction into the Fellows at the Annual Conference in Houston in 2008.
This year, it was a pleasure to be able to surprise Jean Montgomery as the recipient of the Honorary Lifetime Membership Award. Gino was honored again at the final Board of Director's meeting on Friday of the conference for her perseverance and dedication to the compilation of Policies and Procedures, a task that has taken two long years and is nearing completion, for now. She loves surprises but hates being surprised. We got her twice this year.
It was also an honor being able to recognize Tim Kelly for his long-standing dedication to the Grants & Fellowships Committee. He has been involved, in some way, since its inception. Until this year, he had taken care of the previous seven art auctions and flea markets that occur every three years. Through his leadership, the Kook Fund has benefited to the tune of $80,000 as a result of all of those auctions.
To me, the highlight of this conference was the keynote address by Luis Valdez. If you were unfortunate enough to have missed it, check it out on the USITT website. The man spoke for over 20 minutes, sans notes, passionately about theatre and its meanings. He is such an inspiration that you need to view his presentation. Once you have seen it, you will want to share it with anyone you know and care about.
Thank you to all of the volunteers, the staff, the exhibitors, the panelists, and the attendees for making this one of the most memorable conferences in the last 28 or more years for me.