News & Notices
Lea Asbell-Swanger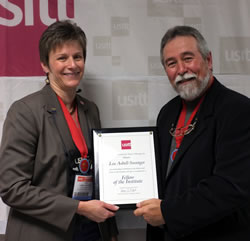 Our first new Fellow,Lea Asbell-Swanger graduated from the theatre program of a prominent southern university and shortly thereafter was accepted into the MFA program of a major northern university. It was here, while still a student, that she joined the staff as a production assistant. Over the next 15 years, this remarkable young women rose through the ranks of staffers at her university to become the assistant director of Penn State University Center for the Performing Arts in 2001. During this journey, Lea Asbell-Swanger served in a wide variety of positions as well as fulfilling faculty assignments as an instructor of stage management and arts management. Lea also served as supervisory faculty for student interns with the Music at Penn Woods annual festival. A list of her current duties at Penn State is much too long to mention here (In fact her list of duties was so long, I thought for a moment I was looking at the job description of a technical director!), but highlights include training, recruitment and supervision of staff, booking and advancing presenters, and even negotiating union contracts. 
Upon joining USITT in 1992, Lea immediately became active and has served as a panelist at every conference since 1993. A stalwart of the Management Commission, she has served that group as Vice-Commissioner for both Human Issues (1996-2003) and Programming (2003-2008). In 2003 she also began the first of three consecutive terms on the Board of Directors. In 2006, Lea was recruited to become a member of both the Finance and Nominations Committees. In 2007 Lea was asked to chair the 21st Century Task Force that examined the Institute's practices and governance, and the following year was asked again to chair USITT's Transition Advisory Team that developed and implemented an overhaul of the Institute's governance structure.
         
You might think that all of this would have been more than enough time and effort for a volunteer to donate to our Institute, but during these same years Lea became involved in two other projects "just for the fun of it." After attending a Living History Project interview of Dr. Randall Davidson in 1999, she stepped forward and trained as an interviewer for the project. Subsequently, she not only has conducted the second largest number of interviews for the project, she agreed to co-chair this on-going effort from 2005-2010. But even this wasn't enough "fun" for our Lea. She next volunteered to participate on the Archive Committee. Since 2006 this indefatigable, dedicated, and indisputably "geeky" group, has spent literally hundreds of work hours sorting, culling, and organizing the Institute's records into a viable archive. I, for one, am simply in awe of her intelligence, energy, dedication, good humor, tact, and perseverance.
Given her outstanding performance in these many efforts, it comes as no surprise to anyone that Lea will begin her term July 1 as the Institute's 26th President. Please help me welcome to the stage our newest Fellow, Lea Asbell-Swanger!
Ms. Asbell-Swanger was inducted as a Fellow along with William Browning, Rodney Kaiser, Michael Ramsaur, and Mark Shanda.