News & Notices
Mark Shanda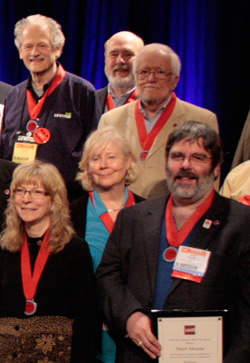 Mark Shanda was introduced by Richard Stephens.
Our final new inductee this evening is a graduate of the technical production program of the storied University of Wisconsin-Madison. A former Eagle Scout with a penchant for getting things done, Mark Shanda arrived at the Ohio State University in 1986 to serve that department as its technical director. Over the next 15 years he also served his department as director of undergraduate studies, interim chair on several occasions, and a member of the OSU College of Fine Arts Council.
In 2001, Mark was appointed associate chair and director of theatre. In 2006 he was elected chair of his department. And in 2010 Mark was recruited to become the dean of arts and humanities for the Ohio State University.
         
An accomplished writer, Mark co-authored Drafting for the Theatre with Dennis Dorn in 1992, and I understand that this year, after a mere interval of 20 years, they have now finished writing and have published their first revision! (Don't worry guys; no one knows better than I how long it can take to write a book.)
Mark has also authored numerous articles on theatre technology and personnel management that have appeared in Sightlines, TD&T, the Yale Tech Briefs, and numerous Tech Expo catalogues. His powers of observation, fairness, and articulate writing style have made Mark one of the nation's leading evaluators in cases involving issues of tenure and promotion as well as NAST departmental program evaluations.

A member of USITT since the mid-1980s, Mark has served the Institute as a presenter and chair at numerous conferences. He came to national prominence during two terms as Co-Commissioner of the Technical Production Commission. Mark continues to serve as chair of that Commission's Tenured TD Mentoring Project.
Mark also served two terms on the Board of Directors and in 1999 was the technical director of the U.S. entry to the Prague Quadrennial. He has chaired or co-chaired four Tech Expos and continues to serve as an editor for that ongoing national exhibit. This is a project near and dear to Mark's heart as he was an initial member of the Expo Committee in1987. These days, Mark continues to serve as the Vice President for Publications for the Institute.
Finally, I feel compelled to include this quote from Mark's nomination: "Mark is a real role model for those who believe that someone in theatre can lead a balanced personal life. He is active in his community, an elder in his church, and has fulfilled leadership roles in his children's school organizations. Throughout his career, and in whatever endeavor he has undertaken, Mark is known as a thoughtful, knowledgeable and steadfast individual." Please welcome to the stage Fellow Mark Shanda.
Mr. Shanda was inducted as a Fellow along with Lea Asbell-Swanger, William Browning, Rodney Kaiser, and Michael Ramsaur.