News & Notices
Montgomery Honored – Twice!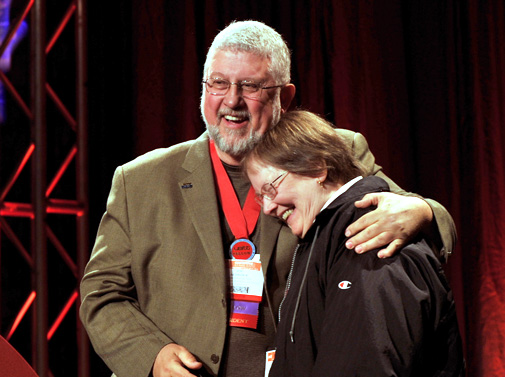 Jean Montgomery, well-known throughout USITT for her attention to detail and her interest in organizational structure and support, was surprised twice at the Annual Conference & Stage Expo in Long Beach, California.
On March 25 at the Keynote and Annual Meeting, she was presented with an Honorary Lifetime Membership award, bestowed on an individual who is recognized for providing significant years of continuous and extraordinary service to the Institute.
That award, given at the opening of the Annual Conference this year, is kept secret until it is announced.
It was, bestowed by President Joe Aldridge and reads:
This award is a token of great admiration and esteem for the breadth of your service to both the USITT Northern Boundary Regional Section and the National organization. Your discreet and professional manner in handling critical Institute matters, your commitment to prudence in USITT finances, and your dedication to preserving the heritage of USITT and its singular place in the theatre world are indispensable and deeply appreciated.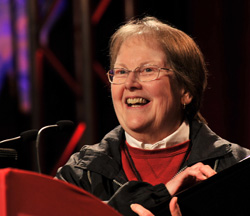 In her acceptance, Ms. Montgomery noted that she loves surprises, but hates being surprised.
At the Board of Directors session on March 30, Ms. Montgomery was asked to sit in with the board to continue the meticulous, time-consuming, and vital task of revising the Institute's Policies and Procedures. In addition to spending more than an hour in discussion of proposed revisions, the Board also presented her with a resolution of appreciation:
Whereas Jean Montgomery has watched carefully over USITT's evolving governance as past Secretary, and as personal attaché/adviser/counsel to the current Secretary and President, to insure most importantly that the Policies and Procedures of the Institute are organized in a readable, understandable and findable way, heretofore referred to as the PPC, and
Whereas she additionally, for the protection and completion of the PPC insures that minutes, processes, and decisions are appropriately moved, seconded, (or tabled), documented, filed, and follow the order of Robert's Rules of Order, so help her God, and
Whereas she has called upon her vast institutional history and knowledge for benefit of the organization of the PPC, in part, through her years of having touched, filed, and cleaned out Archives, preserving our Institute history for longer than most of us, save maybe Rick Stephens or anyone from the class of 1960 can remember, and
Whereas she has been appointed or anointed the seeker, keeper, and tweaker of all things PPC because of all these and other reasons too numerous to mention, and,
Whereas Gino has shared her knowledge and opinion of all things PPC with anyone who will listen, respond, or share an opinion, and
Whereas given all this, she still refuses to be interviewed for the Living History Project, vowing that all her secrets of the Institute will die with her, and
Whereas she has been called upon once again to develop the PPC, because she is an invaluable colleague, supporter, mentor, teacher, and friend to all who have had the good sense to seek her out and pay attention.
Therefore, be it resolved that the Board of Directors of USITT acknowledges and commends her for her unwavering stewardship of this PPC project and the Institute as a whole. In honor of her faithful service, and willingness to be called upon once again for the untangling of Policy and Procedure, let it be known that Jean Montgomery is now, and forever, a lifetime plus member of the Institute's honorary Hotel California.

Because in the immortal words of Don Henley and Glenn Fry, "You can check out anytime you like, but you can never leave."