News & Notices
2011 YD&T Award 
Winners Announced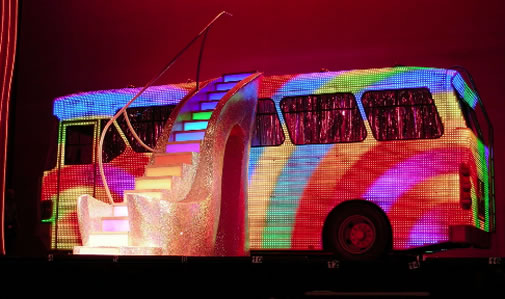 After a very lengthy and difficult adjudication process, 10 outstanding young designers and technicians were selected from over 72 students nominated for the Awards for Young Designers & Technicians in the Performing Arts. The winners will be honored during the Annual Conference & Stage Expo in Charlotte, North Carolina in March.
Bona Lee of Yale School of Drama is the winner of the KM Fabrics, Inc. Technical Production Award. Bronislaw Sammler nominated Ms. Lee, who is scheduled to graduate in May. Fritz Fritz Schwentker, commented "There is clearly an incredible amount of hard work and study that has gone into becoming such a talented technician."
Valerie Lawrence will receive the Robert E. Cohen Sound Achievement Award. Charles Hatcher nominated Ms. Lawrence, who is scheduled to graduate in June from the College Conservatory of Music, University of Cincinnati. One adjudicator describes Ms. Lawrence as a "...very exciting new designer, whom I am sure will continue to grow and see much success as she pursues a professional career."
Mary Ellen Stebbins, winner of the USITT Lighting Design Award sponsored by Barbizon, will be graduating from Boston University in May. Ms. Stebbins was nominated by Roger Meeker. Steve Holliday made this comment, "A very innovative designer, able to make use of resources to create striking looks. Clever and inventive."
So Hyun Chung will be honored with the USITT Scene Design Award sponsored by Rose Brand. Anne Mundell nominated the Carnegie Mellon University student who is scheduled to graduate in May. Peter Beudert praised Ms. Chung as "A designer of great imaginative talent. Her eye for composition is outstanding."
Kimberly Lorentz O'Callaghan, a student at the Carnegie Mellon University, was selected for the USITT Costume Design and Technology Award sponsored by Zelma H. Weisfeld. Ms. Lorentz O'Callaghan, who will receive her degree in May, was nominated by Brian Russman. Val Winkelman commented that her "work on He Who Gets Slapped looks absolutely marvelous. Beautiful work. Consistent and cohesive."
Erich Bolton will receive the USITT Frederick A. Buerki Scenic Technology Award sponsored by Bernhard R. Works. Mr. Bolton is a candidate for graduation in May from the Yale School of Drama and was nominated by Bronislaw Sammler, who received the 2009 USITT Distinguished Achievement in Technical Production Award . Mr. Schwentker noted "I hope and expect that he will continue to bring a wealth of new knowledge to our industry."
Kim Kyungjin, winner of the USITT Make-up Design Award sponsored by Kryolan, will graduate in May from the University of Evansville. She was nominated by Patti McCrory. Ms. Kyungjin was noted by Donna Meester as being as having "Very strong designs." and "Fabulous presentation of process!!"
Brooke Robbins is the winner of the USITT W. Oren Parker Scene Design Award sponsored by Stage Decoration & Supplies, Inc. The University of North Carolina School of the Arts student will graduate in May. Ms. Robbins was nominated by Joe Tilford. One adjudicator commented "Her designs are masterful, sophisticated, and richly detailed."
Siobhan Ruane is the recipient of the USITT Stage Management Award sponsored by Clear-Com. Eileen Smitheimer nominated Ms. Ruane, who will graduate in May from the University of Delaware. One adjudicator was impressed with her "very strong paperwork….one of the best I've seen."
The USITT Awards for Young Designers & Technicians in the Performing Arts will be presented at Opening Night 7 p.m. March 9 in the Charlotte Convention Center-Ballroom C.
In addition to a cash prize, award winners receive complimentary Conference registration and have an opportunity to meet and discuss their work with the award sponsors and adjudicators. Additional images from the winners can be found in The Last Word of this issue. A complete list of YD&T winners from past years is available here. Applications for the 2012 award will be available later in the year.