News From:
Regional Sections
Desert State: Desert State Workshop
Jill Maurer, a member of the Desert State Regional Section, documented the activity during a recent Desert State student workshop. Participants were making a campfire, complete with sound effects, out of found scrap materials.
Photos/Jill Maurer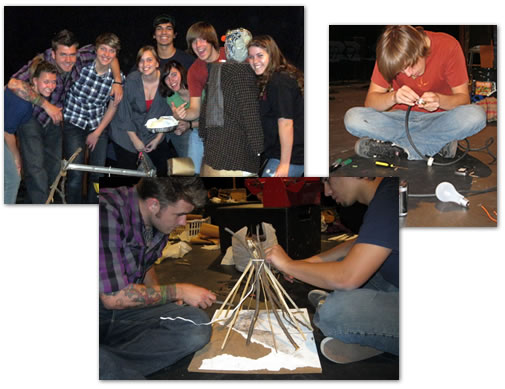 Ohio Valley: Seek Nominations; Plan Tour, Fall Conference
Nominations are open for Ohio Valley Regional Section Board positions. To nominate someone, contact Eric Rouse at ejr127@psu.edu. Nominations will be taken through the next membership meeting in Charlotte, North Carolina in March. The voting process will begin at that meeting and will finish electronically for those unable to attend the Annual Conference & Stage Expo.
Mark your calendar now for Saturday, May 21 for a Behind the Scenes Tour of the new sustainable designed Rock & Roll Hall of Fame in Cleveland, Ohio. There will be a panel discussion with staff from the project. Watch the website for more details about time and event hotel discount at the Wyndham downtown.
The Fall OVS 2011 Conference will be held at Allegheny College in Meadville, Pennsylvania on September 24. Suggestions for sessions at the next Fall Conference or for future events can be sent to Tammy Honesty (thonesty@cinci.rr.com) or via Facebook USITT/Ohio Valley Section Group Page.