News & Notices
To Present Distinguished Achievement Awards
Six individuals with outstanding records of achievement in a specific segment of the industry will be honored at the 2011 Annual Conference & Stage Expo. Each will be a featured part of the Conference in a special session presented by one of the Commissions.
The individuals and their areas of expertise are: Carrie Robbins, Costume Design & Technology; William J. Byrnes, Management; R. Craig Wolf, Education; Dennis Dorn, Technical Production; Cesar Pelli, Architecture; and John C. Scheffler, Scene Design.
Distinguished Achievement in Costume Design & Technology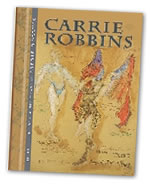 Ms. Robbins' work has been featured in more than 30 Broadway shows, including Class Act, Grease (original), Agnes of God, Yentl, Octette Bridge Club, Sweet Bird of Youth (with Lauren Bacall), Frankenstein, Happy End (with Meryl Streep), Boys of Winter, Cyrano (with Frank Langella), and Shadow Box (with Mercedes Ruehl).
She is the subject of the latest in USITT's Monograph series which will make its debut at the 2011 Annual Conference. Her awards and nominations include two Tony nominations, five Drama Desk, Maharam, USITT/Prague International, L.A. Dramalogue, Henry Hughes, F.I.TSurface Design, and Audelco.
Her costumes for White Christmas have been seen in major cities in the United States and Great Britain. Her regional work includes M. Butterfly and On the Verge for Arena Stage and American in Paris for the Alley Theatre, Houston as well as many productions for the Guthrie and Williamstown theatres.
Opera design includes Death in Venice for The Glimmerglass Opera ('08 PQ Design Exhibit), Samson et Dalila (San Francisco Opera and Houston Grand), and many productions for Sarah Caldwell's Opera Company of Boston. Her work has also been seen at the Hamburg Stats Opera.
Known for her drawing ability, Ms. Robbins' work is featured in the Time-Life Series –Collectibles. She has been profiled in Costume Design: Techniques of Modern Masters, Contemporary Designers, and CUNY-TV's Women in Theatre series.
She is an MFA graduate from the Yale School of Drama and was master teacher of costume design at the NYU Tisch School of the Arts for many years.
Distinguished Achievement in Management
Mr. Byrnes is the associate provost and dean of graduate studies at Southern Utah University where he served as dean of the College of Performing and Visual Arts from 2004 to 2009. He teaches graduate seminars in the arts administration program in board relations, strategic planning, fundraising, economics, financial management, and leadership. His textbook, Management and the Arts is widely used in arts and culture management courses throughout the world.
Mr. Byrnes was a professor of theatre and associate dean of Florida State University's School of Theatre from 1994 to 2004. He also directed the MFA Theatre Management program at FSU. Before that, he worked for 22 years as a faculty member and administrator at Oberlin College in Oberlin, Ohio. He began his career as a lighting designer, technical director, and production manager. He has designed the lighting for over 150 productions.
He is on the advisory board of ISW Business School in Freiburg, Germany where he has been a guest lecturer since 2003. He has lectured on arts management in China, Japan, Singapore, Turin, Cologne, and Belgrade. He is a member of the Editorial Advisory Committee of the Asia Pacific Journal of Arts and Cultural Management. He was President of USITT in 2000-02 and is a Fellow and a recipient of the Joel E. Rubin Founder's Award. He is editor of "Inside USITT" in TD&T. In 2001, he was inducted into the National Theatre Conference (NTC).
Distinguished Achievement in Education
Mr. Wolf has been a college professor for almost four decades starting in 1972 at the University of Michigan in Ann Arbor. He joined United Scenic Artists in 1977.
In 1982, he moved to Charlottesville, Virginia where he taught at the University of Virginia for two years before crossing the country to teach at California State University from 1984 to 1986. During that time, he joined renowned scenographer Oren Parker in authoring the fifth edition of Scene Design and Stage Lighting. Since 1987, Mr. Wolf has been teaching both undergraduate and graduate students at San Diego State University.
He is a full professor of design and head of the design program at San Diego State University. In addition, he is a professional lighting designer whose designs have been seen nationwide, including productions for San Diego's Old Globe Theatre, Dance Theatre Workshop in New York, Virginia Shakespeare and the Richmond Ballet Company, Theatre Artaud in San Francisco, and the Japan America Center and Odyssey Theatre Ensemble of Los Angeles.
He has continued as author of the lighting and sound sections of Scene Design and Stage Lighting, now in its ninth edition. He has been consistently active with USITT where he has been Lighting Commissioner, Vice-Chair of the Publications Committee, and member of the Board of Directors. Currently, Mr. Wolf is a member of USITT's Awards Committee.
Distinguished Achievement in Technical Production
Mr. Dorn is professor emeritus and former director of theatre at the University of Wisconsin-Madison. He was resident technical director of the University of Wisconsin-Madison from 1976 to 2009 where he served as technical director and designer for over 180 productions. He is an active member and Fellow of USITT, and has been an active contributor to TD&T. He is the co-author of one of the best selling technology books in history and helped to found the highly successful USITT Tech Expo exhibit and catalog. Mr. Dorn was Vice-President for Commissions, and serves at USITT's representative to the ETCP council.
Distinguished Achievement in Architecture
Cesar Pelli, senior principal of Pelli Clarke Pelli Architects, was born in Argentina, where he earned a diploma in architecture from the University of Tucumán. He first worked in the offices of Eero Saarinen, serving as project designer for the TWA Terminal at JFK Airport and Morse and Stiles Colleges at Yale University. He was then director of design at DMJM and, later, partner for design at Gruen Associates, both in Los Angeles. His award-winning projects during these years include the City Hall in San Bernardino, California; the Pacific Design Center in Los Angeles; and the United States Embassy in Tokyo.From 1977 to 1984, Mr. Pelli was dean of the Yale School of Architecture. In 1977, he founded Cesar Pelli & Associates, now Pelli Clarke Pelli Architects.
He has written extensively on architectural issues, including Observations for Young Architects (1999). His work has been widely exhibited and is the subject of nine books. He has received 12 honorary degrees and more than 200 awards for design excellence. He is a Fellow of the American Institute of Architects, and a member of the American Academy of Arts and Letters, the National Academy of Design, the International Academy of Architecture, and of l'Academie d'Architecture de France. In 1995, the American Institute of Architects awarded Mr. Pelli the Gold Medal, in recognition of a lifetime of distinguished achievement in architecture. In 2004, he was awarded the Aga Khan Award for Architecture for the design of the Petronas Towers.
Distinguished Achievement in Scene Design
Mr. Scheffler has been an all-category union designer since 1968. He has a degree in architecture from Tulane University and was a junior partner in the Phillip Henry Roach, Jr. architectural firm. He has designed over 300 costumes for various crews of the Mardi Gras in New Orleans. He was the resident designer for the Algiers Community Theatre and two ballet companies in New Orleans.
In 1965, he moved to Brooklyn, New York and has been designing in New York, regional theatre, and opera and summer stock theatre for more than 40 years. He won an OBIE Award for the set design of AC-DC, a Carbonell Award for Violano Virtuoso and an ADELCO nomination. He was head of the theatre design program at Brooklyn College for 24 years. He is still designing sets and costumes for theatres in Brooklyn and in Manhattan and recently opened a production of Endgame in New York City designing both sets and costumes.