News From:
Sustaining Members
Welcome Stage Rigging Services, Inc.
Stage Rigging Services, Inc., of Greensboro, North Carolina has joined USITT at the Sustaining member level. The company, whose website is www.srsrigging.com, is currently working on projects for both Carnival and Celebrity cruise lines as well as many land-based projects.
Checkers Adds Velcro to Guard Dog
Checkers Industrial Products Inc. has added traction to its low profile cable protectors. For increased traction, Guard Dog low profile cable protectors are now available with optional Velcro strips for use on carpet or anti-slip rubber pads for use on smooth surfaces. With 1, 2, 3, or 5 channels, these interlocking protectors are only 1.25" high with a .75" channel height and feature either standard ramps or low angle ADA-compliant ramps. For more information, visit www.cableprotector.com.
Welcomes New Staff Members
Serapid, Inc. welcomes three new employees to the company: Keith Redmond, Diana Pickens, and Chi Chung.
Mr. Redmond is working in estimating and spare parts sales, Ms. Pickens joins the purchasing department, and Mr. Chung is working in electrical engineering.
For more information, visit at www.serapid.us, send an e-mail to: info-us@serapid.com, or call us 800-663-4514.
Joins Customer Development Group, Company Aids Telethon Success
Kevin Woods has been hired to TMB's global customer development group. Based out of TMB UK in London, Mr. Woods will maintain existing and establish new customer relationships, plus develop the markets for TMB's proprietary and exclusive products.
Mr. Woods received his BA with honors in theatre practice at the Central School of Speech and Drama in London. Before and after graduation, he did freelance work at several different theatres in and around London, including lighting design for Eugene Onegin at the Richmond Theatre and My Fair Lady at the New Wimbledon Theatre. He also teaches technical theatre classes at Richmond upon Thames College.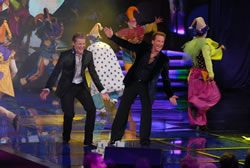 TMB also supplied Hippotizer HD media servers to control this year's production of Teletón Mexico, the annual 24-hour telethon, which benefited the Children's Rehabilitation Centers. TMB is exclusive distributor for Hippotizer in North America and Asia. Find out more about Hippotizer at www.tmb.com/products/hippotizer and other products available from TMB at www.tmb.com.
Announces Summer Schedule.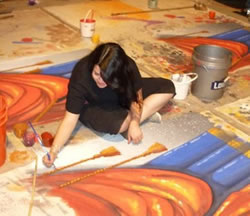 Season five at Stagecraft Institute of Las Vegas is looking to be the best yet to include computer drafting, computer modeling, rigging, automation, specialty props and SFX, sound, make-up/masks, lighting technology, patterning, projections and video, and moving lights.
SILV is also introducing a series of weekend classes that offer training in slightly more traditional skill sets.
SILV has expanded both the scholarships and the internship programs for summer . Students seeking a scholarship or an internship should file applications ASAP. SILV will interview potential scholarship students and potential interns at the USITT Annual Conference & Stage Expo in Charlotte, North Carolina. For additional information, visit www.stagecraftinstitute.com or call 702-388-7458 or 702-966-9805.