News & Notices
Online Marketplace Now Open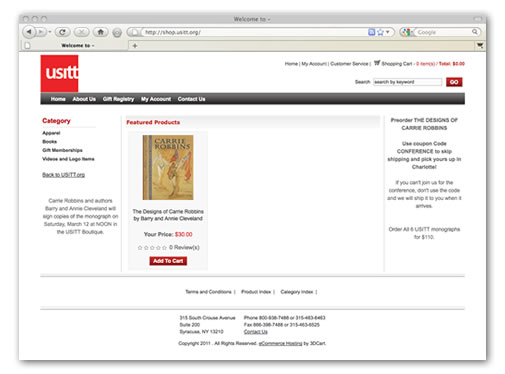 New, updated, and e-Easy to navigate! That's the new online marketplace for members at shop.usitt.org. Members can now get to USITT bookstore items via this new shopping site, which has enhanced features.
The e-mail address at which a member receives USITT e-mail is the username and the member number is the password. This allows access to a secure shopping cart for purchases. Credit cards are processed through Authorize.net to add another layer of SSL security.
Rather than flat rate shipping, there are shipping choices -- overnight, ground and everything in between. The site also prepares all shipping documents so there is less chance of an address being misspelled or numbers inverted.
Follow an order as it is processed with an e-mailed receipt and updates as soon as things ship.
Requests for logo clothing and other items which were only carried at the conference are now available at the site year-round.
In addition to new shopping, USITT has entered into affiliate agreements with places members shop. From home improvement and hardware items to books and music, clicking through the USITT marketplace to get to favorite online shopping sites helps a bit back to the Institute through everyday purchases. Use the portal and see how members can help the Institute while doing their daily business.
Member benefits are one of the big reasons people join USITT. Help the organization increase offerings by using the ones already out there.