News & Notices
USITT Kicks off Elite Training in Las Vegas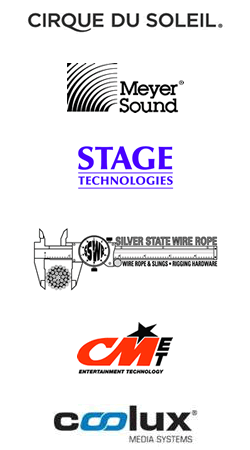 Learn how to use the latest high end equipment with the best instructors. That's the result of USITT's newest program Elite Training. Spurred by a suggestion from Cirque du Soleil, Meyer Sound, and Stage Technologies, this program allows member companies to offer tuition-free training to USITT members.
Each company will set the parameters, location, and group size that best allows it to offer high quality training to members. All experience levels will be addressed in the training, so members shouldn't be shy about applying. While the number of seats is limited in each session, the goal is to provide training to people at all skill levels.
Take time to check out the first Elite Training experience taking place May 12 to 14 in Las Vegas, Nevada. Hosted by Cirque du Soleil at its Resident Shows Division Training Center, 32 student technicians will receive training.
Eight technicians in sound, eight in rigging, eight in projection, and eight in automation will learn from professional trainers provided by Meyer Sound, Columbus McKinnon, Coolux, Stage Technologies, Silver State Wire Rope, and Cirque du Soleil.
Participants are responsible for travel, housing, and meals, but the intensive training courses are tuition free. Discount housing is available near the training center, and shared housing may be possible.
Help kick off this new initiative and apply now. Applications and additional information is available here. E-mail info@office.usitt.org with questions.