News From David Grindle, USITT Executive Director
Weather Cold and Snowy, But Warmth Surrounds
BRRRRRR!!!!
There; that's the basic answer to how my family and I are holding up in our first winter in Central New York. Just so everyone is clear, December 2010 was the snowiest December on record with 72.9 inches of snow at the airport. We bought a house in a quaint little town Northwest of Syracuse. That quaint little town doesn't advertise itself as being in the snow belt, but guess what? It is. We had far more snow than 72.9 inches.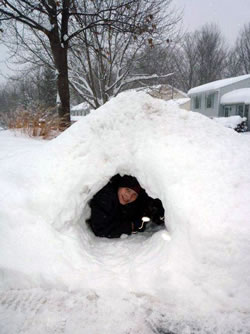 My first snow storm was a special memory as even the indigenous folks working in the office finally agreed it wasn't normal to have it snow for over 96 hours non-stop! That's right, four days and a few hours of non-stop snow. I now know that my neighbors have to be at work at 7 a.m. because, if I wake at 6 to the chorus of two-stroke engines tackling the other driveways, I know it's another morning for me and the snow blower. The boys get out with the shovels to tackle the walkway, and we are done in no time.
I've learned that the amount of snow that would have crippled my hometown in Georgia (that would be any amount of snow) is scoffed at here. Our boys have gone to school late, but not missed a day yet due to weather. This has my nephews in the south completely befuddled. The office doesn't close, no, not until the government issues a "snow emergency." What it takes to get to one of those, I don't really want to know.
Haven't missed a single flight out of the airport. But I am now quite familiar with the proper de-icing procedures for a variety of regional aircraft.
I think the best part of life so far this winter was the day I came home and our yard, on either side of the driveway, looked like the Maginot Line. Our boys and their friends had dug trenches and built forts on either side of the drive and were in an intense battle. They would crawl through the trenches and pop up to whiz snowballs across at the opposing side. And yes, I was fair game getting out of the car.
I have been in colder places, and I was in deeper snow when I went to Iceland. But neither of those had what this winter has, family and new friends in a place that is home. Central New York is a great place. Quiet, not really much traffic, and some amazing scenery in any season. Spring is supposed to be unbelievable; I'm told it arrives in late May/ early June.
See you in Charlotte!