Commissions
Training for the New Design Era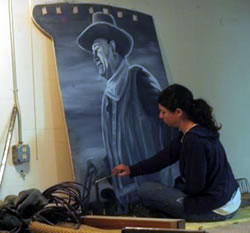 The professional world of design is changing, and with it training needs to be re-examined. With the recent decline in the economy, more and more theatres are cutting back or even closing their doors. This means there are fewer jobs in the market and, as Richard Isackes' recent article in American Theatre points out ,"the diverse professional destinations" in theatre or opera to which students are heading will not support them.
Join in the conversation at the 2011 Conference & Stage Expo in Charlotte, North Carolina. Training for the New Design Era: Sustainable Careers in Design session panelists will discuss how to train for the job that does not exist. Participate in the discussion of the importance of integrating "alternative avenues" into training the next generation of designers. This session should spark the significance of exposing theatrical designers to all the options. From designing theme parks to mural painting and from museum installations to interior design, the panelist will explore them all.
This session is presented in conjunction with the "Alternative Avenues" Design Beyond the Theatre Special Exhibit which is part of Stage Expo.