Conference & Stage Expo
Experience the Arts in Charlotte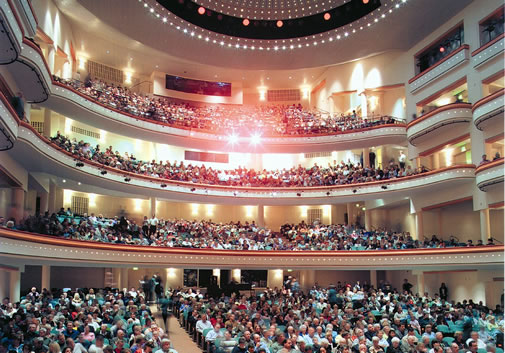 The Charlotte area hosts several major local professional performance groups. Three notable ones are Opera Carolina, North Carolina Dance Theatre, and The Charlotte Symphony Orchestra. Each is an important fixture in the performing arts landscape of the Charlotte metropolitan area.
Opera Carolina performs three productions a year in the Belk Theater at the Blumenthal Performing Arts Center. This year, the season began with Mozart's Cosí Fan Tutte in October and continues with La Traviata in February, finishing with HMS Pinafore in May. Opera Carolina was created in 1948 as Charlotte Music Club with volunteers and an operating budget of $125. It has since grown to an operating budget of $3 million, and is the largest professional opera in the Carolinas. Opera Carolina's website features far more information about the organization and ticket purchasing information. James Meena is the general director and principal conductor.
North Carolina Dance Theatre was founded in 1970 and has grown to be North Carolina's largest professional ballet company. It has a new facility at 701 North Tryon Street and performs regularly at the Knight and Belk Theaters in the Blumenthal Performing Arts Center. It has an operating budget of over $4 million and employs 22 professional dancers. North Carolina Dance Theatre is producing seven major productions this season. It includes its 40th Anniversary Performance at 7:30 p.m. Thursday, March 10 through Saturday, March 12 at the Knight Theater while the Annual Conference & Stage Expo is in session. The Little Mermaid will also be performed at 2 p.m. Saturday, March 12 and Sunday, March 13 at the Knight Theater. Tickets can be purchased from the site or through the Blumenthal Performing Arts Center. Jean-Pierre Bonnefoux and Patricia McBride serve as artistic directors.
The Charlotte Symphony Orchestra was founded in 1932 and currently produces 100 performances a year, mostly in the Belk Theater. Charlotte Symphony Orchestra employs 100 professional musicians with 62 on full-time contracts. The operating budget is $7.8 million a year. Charlotte Symphony Orchestra also serves as the resident orchestra for North Carolina Dance Theatre and Opera Carolina. During Friday, March 11 and Saturday, March 12 the symphony will perform selections of Wagner and Bruckner conducted by Christof Perick at the Belk Theater. Tickets can be purchased through they symphony's website or through the Blumenthal Performing Arts Center. Christopher Warren-Green serves as the musical director.
Each of these organizations features high artistic and production quality and value. They are worth checking out if one is interested in the Charlotte area performing arts, each being the area's premier organization of each respective craft. Tickets to any of the events listed during USITT's conference can be purchased through the Blumenthal Performing Arts Center or by calling them at 704-372-1000 Monday through Saturday 10 a.m. to 6 p.m.
A good source of information about a wide variety of activities in Charlotte in March is http://artsalamode.com.