Conference & Stage Expo
Exciting Displays Kick Off Second Half Century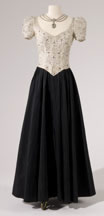 In March, the city of Charlotte, North Carolina will welcome USITT for the 51st Annual Conference & Stage Expo. As the Institute's second 50 years begin, members look forward to many exciting times yet to come.
Old Favorites
In Charlotte, many Special Exhibits will be presented at Stage Expo recalling past eras of design and offering a glimpse to the future. Among the exhibits are the bi-annual Tech Expo and Cover the Walls exhibits. Recent technical design solutions devised to solve theater design challenges will be on view at Tech Expo. Some solutions are very elegant and sophisticated, while others utilize simpler technology, yet all demonstrate creative and resourceful problem-solving skill. Cover the Walls always delivers on its promise to exhibit a stimulating range of design work among the membership.
The Commissions are working overtime to provide quality exhibits again this year. The Architecture Commission will present this year's Architecture Award winners as well as a display of the recently created USITT Architecture Student Design Competition. Through increased sponsorship, the Student Design Competition continues to grow.
The Technical Productions Commission will present The Jig Show, and invites participants to share the "widget you built to help cut tapers on the table saw," or the "doo-hickey that helps you lay-out coffin locks"; essentially any gizmo that helps make magic and do the job more easily is welcome. On Friday of the conference, exhibit attendees have the opportunity to vote for their favorite entry with an award ceremony following on Saturday at noon at the exhibit location. Learn more »
Scheffler Designs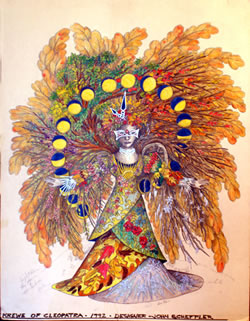 An exhibition of scenery and costume designs by John C. Scheffler is being created by the Scene Design Commission. Mr. Scheffler has been an all-category union designer since 1968. He has a degree in architecture from Tulane University and was a junior partner in the Phillip Henry Roach Jr. Architectural Firm. He has designed over 300 costumes for various crews of the Mardi Gras in New Orleans. He was the resident designer for the Algiers Community Theatre and two ballet companies in New Orleans. In 1965 he moved to Brooklyn, New York and has been designing in New York, regional theatre, opera, and summer stock theatre for more than 40 years. In 1970-71 he won an OBIE Award for his set design for AC-DC, and in 1977-78 the Carbonell Award for best set for his production of Violano Virtuoso and an ADELCO nomination. He was head of the theatre design program at Brooklyn College for 24 years. Now retired, he is still designing sets and costumes for theatres in Brooklyn and in Manhattan. The exhibition will include both set and costume designs.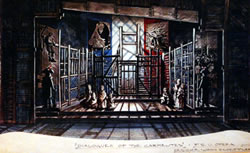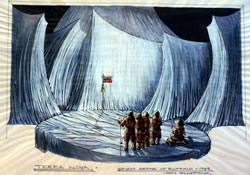 The costumes are from 40 years of association with the Mardi Gras. Several of the actual Mardi Gras costumes will be on exhibition in Charlotte. His set design work is from regional and New York work. Even a quick glance at his impressive resume indicates an accomplished and gifted theater artist with design credits from the Santa Fe Opera; Aspen Music Festival; The Gray Wig – Hofstra Alumni, Hofstra University; Compass Theater, New York City; La Mama, New York City; Houston Grand Opera; American Opera Theatre; Julliard School of Music; San Francisco Opera; Opera Theatre of St. Louis; The Academy of Vocal Arts, Philadelphia, Pennsylvania; Oberlin Opera Theatre, Oberlin, Ohio; University of Texas, Austin, Texas; Eastman School of Music, Rochester, New York; Florida State University, Opera Department; and National Opera of Chile, Santiago, Chile. Many of the companies that John has designed for have had him return to design production after production, confirming his creative accomplishments. Following are three images of Mardi Gras krewe costume designs by John C. Scheffler.
Scene Design Alternatives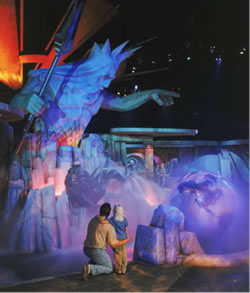 Jesse Dreikosen will organize "Alternative Avenues" Design Beyond the Theater presented by the Scene Design Commission. This exhibit will showcase professional design work by scene designers outside traditional theatre in hopes to expand the horizons for the next generation of designers and possibly inspire current professionals to broaden their perspective. Ten designers' work will be on display showcasing examples that range from theme park design to mural painting and from museum installations to interior design. On Friday 2:45 to 4 p.m. Training for the New Design Era: Sustainable Careers in Design, will be an exploration, through discussion and audience participation, of how to train for the job that does not exist and finding ways to integrate "Alternative Avenues" into training the next generation of designers.'
To Feature Costume Collections
The Costume Design & Technology Commission also is creating two exhibitions for the Charlotte conference: the Magic of Hollywood: the Gene London Costume Collection and Too Much is Not Enough: Exploring Harriett Lake's Closet.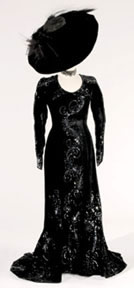 The Magic of Hollywood collection was assembled by Philadelphia-area TV personality and fashion designer Gene London. He hosted a popular daily children's show seen on WCAU-TV from 1958-1977. On his award-winning Cartoon Corner General Store, he was producer, director, writer, and star drawing upon his many talents and charismatic personality to create a magical environment where he told stories, myths, and folkloreillustrating them on his drawing board. Famous stars such as Kirk Douglas, Lucille Ball, Myrna Loy, and Mary Tyler Moore would often appear on the show.
It was Joan Crawford who started Mr. London's amazing collection by sending him articles from her stage and personal wardrobes. After Cartoon Corners went off the air, Mr. London moved to New York City. Until 2001, he operated a retro clothes shop, and in later years, served as a Hollywood and Broadway fashion consultant and spokesman for the Mikimoto brand of jewelry.
He collected costumes worn by movie celebrities (some 60,000 gowns, dresses and fashion accessories). In July 2002, at age 71, he exhibited more than 50 pieces of his Hollywood gown collection at Gene London Presents: Hollywood Glamour at the Showboat Casino Hotel in Atlantic City. On May 17, 2003, he once again displayed his gowns at the 80th anniversary celebration of the Old Academy Players in Philadelphia. The exhibit included a deep red dress with plunging neckline and fur-trimmed sleeves worn by Philadelphia-bred actress Grace Kelly in the Oscar-winning film The Country Girl (1954). On October 3, 2009 the Reading Public Museum, Reading, Pennsylvania, opened The Magic of Hollywood: The Gene London Costume Collection," featuring more than 100 gowns and costumes. Sean Connery's warrior outfit from Robin and Marian, Tyronne Power's matador costume from Blood and Sand, and Fredric March's jeweled tunic costume from the Affairs of Cellini are among the many extraordinary men's costumes that are a unique feature of the full collection. Michael Jackson's prince outfit, worn for a 1985 photo shoot, is also in the full collection.
The complete exhibition features over 130 costumes created by film industry's greatest designers.
Too Much is Not Enough: Exploring Harriett's Closet offers a unique perspective of how a clothing collection reflects the personality and viewpoint of its owner. Harriet's clothing style is extravagant, and her collection is in many ways extreme. She unapologetically purchases any piece of clothing she desires. This exhibit allows the viewer to experience the unique style of this woman through the beauty and historical significance of her wardrobe's contents. The garments chosen for the exhibit are a cross-section of her wardrobe from post WWII to present day. The garments vary from well known designers such as Coco Chanel and Andrienne Landau, to clothing recently purchased from Target. The exhibit also integrates photographs of additional pieces, personal photographs of Ms. Lake and life size images of her closet.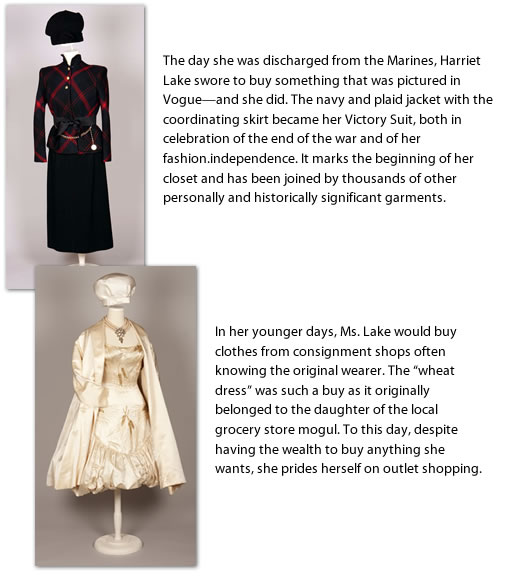 Be sure to plan plenty of time to stroll all the Special Exhibits being presented at Stage Expo during the 2011 Conference & Stage Expo in Charlotte.