USITT Saves Me a
Lesson Plan
I didn't really realize until I returned from Long Beach what a good USITT Conference we had or how it would help me get through my next Intermediate Stagecraft class without really working. I got lucky, and so did my students, since 12 out of 15 were able to attend this year's conference. (What was the deal with those other three, two of whom are costumers? Hmmmmm - we really need to work on them!)
Casting about for my lesson plan on my first (very tired) day back, I realized in a moment of genius inspired by sleep deprivation, too much conference schmoozing (partying), a 1,100 mile drive, and my own inherent laziness that all of us had probably attended different conferences. My class has a smattering of lighting students, technical production students, a props person, stage managers, audiophiles, plus the aforementioned costumers. We all went to a different group of sessions, saw different products, and talked with a different set of graduates, old friends, and colleagues, and made new connections. Plus most of my students worked the conference so each had a different perspective on the conference's workings. All I had to do was to ask each one what was the most interesting thing they experienced at the conference. I figured they would take a few minutes each to tell their story, I wouldn't have to talk at all, and maybe they could convince those costumers to attend in Toronto next year!
It worked great! Everybody had experienced a different conference. Reviewing these experiences was like being able to attend the conference again with different perspectives. Our student who works for the University Performing Arts Council bringing acts to campus went to the Technical Rider session. Our technical student now knows what is wrong with our fire curtain. Our prop student had 101 new prop ideas and techniques to share and new mold making ideas to try. Stage managers were sensitized to safety issues, and other students pondered the relationships between T.D.s and scenic artists and the role of the T.D. on the design team. Lighting students were wowed by the various lighting consoles in the "shoot out" and still others were reminded of the rich history of our business through sessions with William Klages and Tony Walton including the beauty of our craft in nineteenth century Paris.
These eye witness reports went on for an hour and fifteen minutes! The students reinforced what they had learned by remembering it and explaining it. Fellow students would then want to know more, so in a sense, everyone was getting more than just "their own conference"; we were getting bits of everyone else's conference. All of this, and we hadn't yet even talked about the cool new products, new theatre colleagues and friends, or the things we learned outside of the sessions and outside of the Expo floor.
I think between these 12 conference-going Intermediate Stagecraft students, myself, and our other students who attended, we probably covered the bulk of the conference. (Still, we need to have attendance at those pesky Costumes sessions for full coverage!) It was also great for our students to see the number of our recent alums there who have gotten into the conference habit.
To Top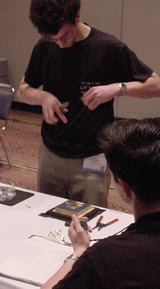 Competitors at Tech Olympics showed fierce determination completing their specific tasks successfully in Long Beach.