Costume Commission
Recaps Long Beach,
Looks Forward to
Toronto and Louisville
We were happy to see so many of you in Long Beach taking part in the great programming provided by our commission members. For those who were unable to join us, I'd like to share some highlights from this year's Conference & Stage Expo.
We were lucky to have two Professional Development Workshops to choose from. The first, Creating Period Hair Styles: Dressing Synthetic and Human Hair Wigs was presented by Amanda French. Ms. French is a nationally-known wig and make-up designer who shared the resources and supplies she uses in addition to practical, hands-on activities in setting and styling synthetic and human hair wigs. The participants were allowed to take home all of the supplies provided for the workshop including headblocks, clamps, and styling tools.
The second PDW, Costume Aging and Distressing for Film and Theatre, was presented by Teri McConnell Tavares, a veteran professional dyer with numerous film and theatre credits.
Participants practiced her wet and dry fabric paint techniques used to age and distress costumes, fabric, shoes, and accessories. Participants and observers alike were treated to a box of samples from RIT Dye including color charts, mixing recipes, and a box of each color.
Joe Blasco, recipient of the 2004 Distinguished Achievement Award in Make-up, presented a retrospective of his career during the special double session The Career of Joe Blasco: Make-up Artist, Manufacturer, Educator. While Mr. Blasco shared stories and photographs of his work, Matthew W. Mungle, a former student of Mr. Blasco's and an Academy Award-winning make-up artist, demonstrated an old age gelatin prosthetic application.
Inspirational was the word most used to describe Sylvia Pannell's presentation of Erte, Wittop, and the Costume Designers of the Music Halls of Paris which focused on the life and times of Freddy Wittop and his work for the Cabaret and the Follies Bergere.
The Costume Poster Session has become a permanent fixture of costume programming. The presenters again raised the bar offering one of the most stimulating poster sessions to date. Among the many highlights were posters on petticoat construction, headdresses, tutu construction, and period neckwear.
Video Game Character Design: Animated Costumes, presented by Holly Durbin, Christian Bradley, and Martha Sapeta, was a revealing look into the world of video game design and creation. They discussed how choices were made to satisfy both the aesthetic and the technical requirements in what may be the next crossover career for theatrical designers.
The formation and specialties of the costume shops in Los Angeles and how to be hired were the topics of Professional Shops in LA presented by Jeffrey Lieder, Kim Little, and Antoinette Muto. Photos of representative works from several shops were presented along with a basic sewing test used for employment purposes.
Joel Ebarb's practical and lively session Hat's Entertainment! Millinery Solutions for the Harried Costumer offered several patterns for and approaches to basic millinery shapes that could be applied to many periods and social classes. We were very lucky to have Richard LaMotte discuss his book Costume Design 101 in The Art and Business of Costume Design for Film and Television. Mr. LaMotte discussed the inspiration for writing the book and his experiences in the film industry before opening the floor to questions.
From Blade to Blood Safely! with Donna Meester and Tiza Garland demonstrated several different approaches to blood effects including stabbings, cuttings, and beatings with live demonstrations of successful and safe techniques. Paula Davis-Larson, Howard Vincent Kurtz, Georgia Gresham, and Don Mangone presented a useful and informative session titled A Liberal Dose of Costume: Innovative Teaching Strategies for Liberal Arts Students. They covered four different methodologies in teaching costume design: history based, research based, creativity based, and hands-on.
Beyond the Internet: Teaching Research Skills Creatively by Cheri Vasek and Derek Lane discussed projects and assignments that can help instill a research ethic in design students. In Breaking into TV and Film Costuming, James Glavan chaired a panel of working professionals including Cynthia Morril, Steven Lee, Juan Lopez, Maggie Morgan, and Matt Reitsma to discuss how to break into the business of television and film costuming with training in university theatre costume design and technology programs.
The new open format for the Commission meeting provided a great update on commission activities and our Coffee and Tea Reception was a terrific opportunity to network with colleagues and friends.
Programming is already in place for Toronto, and we are looking forward to Louisville. Make plans to join us there. Those with ideas for a programming session for Louisville are urged to contact Robert Haven, University of Kentucky, 43 Fine Arts Building, Lexington, KY 40511, 859-257-7506, or rwhave2@uky.edu.
The Commission says "thank you" to William Henshaw, Susan Bobbitt, Holly Payne, Samanthe Harper, and Pat Martin and all of the others who provided feedback during the conference.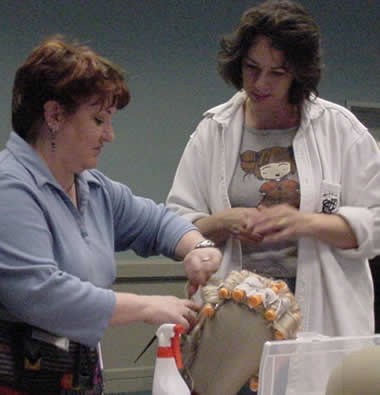 Photo/Tom Thatcher
To Top