DMX512 A Accepted As
New Draft Standard
After more than five years of review, revision, and redrafting, on March 18, 2004, ESTA's Control Protocols Working Group voted to accept the last set of public review comment resolutions for BSR E1.11, Entertainment Technology — USITT DMX512-A — Asynchronous Serial Digital Data Transmission Standard for Controlling Lighting Equipment and Accessories, and to accept the draft standard as an American National Standard.
The action occurred during a meeting held in conjunction with USITT's Annual Conference & Stage Expo in Long Beach, California.
While this does not mean that the document is final, it does move it one step closer. ESTA's Technical Standards Committee, its Board of Directors, and the ANSI Board of Standards Review must still vote positively on the proposal before the document is an American National Standard.
According to Standards Watch published by the ESTA Technical Standards Program "This may take some time, but if all agree the document will become an American National Standard this year, and the BSR in the designation will be replaced by ANSI."
Mitch. Hefter, who chaired the committee, announced the vote at a meeting of the USITT Board of Directors.
As noted in Standards Watch "E1.11 is an significant improvement over its predecessor, USITT DMX512/1990, in that it clears up some of the technical ambiguities in that original, very short document, and it opens up some extensions that will allow for new protocols, such as E1.20 (RDM). E1.11 has been written, however, with the intention of not making products that fully comply with USITT DMX512/1990 instantly obsolete."
Mr. Hefter notes that AMX192 is not being replaced, although it is not widely used.
To Top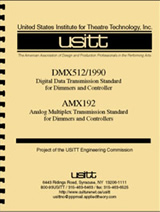 Copies of the current DMX512/1990 may soon become collector's items as the revised standard moves closer to becoming an American National Standard.